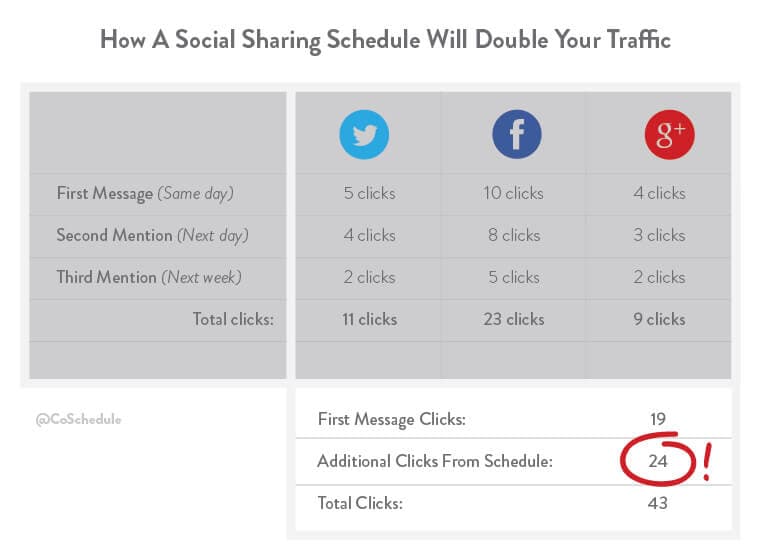 You are creating new content every day. You are planning your content, and creating a schedule. You are doing everything that the experts told you to do, but you aren't seeing the results. What gives?
More importantly, what can you do about it? 
The good news is that there are probably a few simple actions that you can do right now to promote your blog with social media. Without them, you may be missing some major opportunities for huge traffic growth.
The Promotion Problem
Many of us struggle with something that I call 'post and tweet syndrome.' It goes something like this:
Post goes live
Social network(s) get notified
Nothing ever happens again
Oops!
The big problem here is that we aren't leveraging all of the power that our social channels provide–especially after we've invested so much time cultivating our audience and creating our content. When we publish, share once, and never get back around to it again, we lose the opportunity to gather the click-throughs that our content deserves.
The thing we have to realize is that the social web is a stream, and not a book. When we read a book we start at the beginning and work our way to the end. This is not the case for someone who follows a social network. On the social web, our followers will dip in and out at will – consuming  a few messages at a time, and then missing out on others completely.
Want to use Click to Tweet on your blog?
To truly promote your blog with social media, you need to maintain a more consistent presence. You need a social sharing schedule, a simple cascade of messages that drip to your social accounts one at a time over a period of several days, months, or even years!
In short, sharing your post more than once on each network that you use.
How A Social Sharing Schedule Will Double Your Traffic
The math on this strategy is pretty simple. Let's say that your average Facebook post gets 10 clicks. When you post the same message for a second time, you should be able to double your clicks on that post to 20. Double the traffic, and double the fun. Multiply this to the rest of your social networks, and you can make a sizable impact on the bottom line.
Take a look at how the math on this strategy can accumulate over time, even with the law of diminishing returns.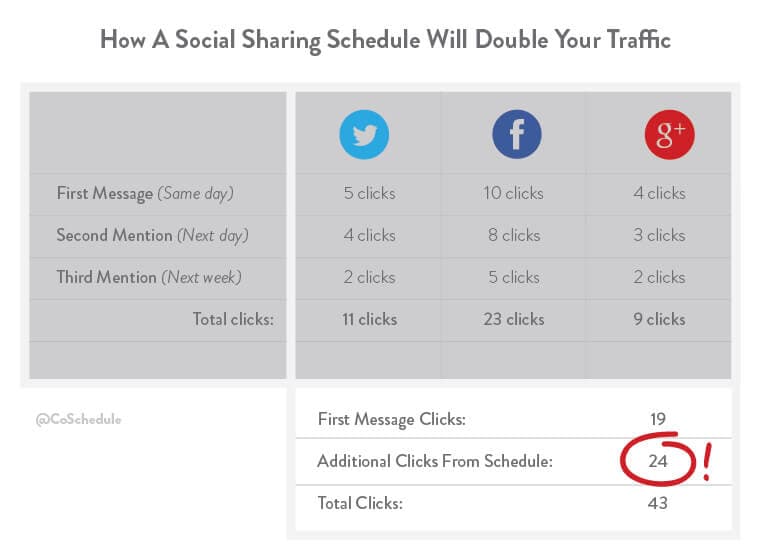 Of course, individual results will vary, but the idea is simple. More shares almost always mean more clicks – not to mention more +1's, likes, shares, and retweets over time.
Using a social schedule to promote your blog with social media is a no-brainer. The big trick is figuring out an optimum sharing schedule for maximum impact.
Creating A Winning Schedule To Promote Your Blog With Social Media
Remember the goal–we want you to promote your blog with social media. To do this, we need to make sure that you have a consistent presence. The sharing schedule will help you achieve that. Promoting your blog in this way is actually pretty easy; it's about taking the time to make a plan and put together the tools you will need to make it happen.
Be careful in your planning, though. You don't want to be sending your messages out one right after another, or in big clumps – that's borderline spam. What we are talking about here is a stream of your content that regularly reminds your users that you're still around. Later on, we'll cover tools like Buffer and CoSchedule that can help you make this sort of promotion easy.
The Message Queue
To create a killer schedule, you need to understand the intricacies of the message queue. The message queue is simply the series of messages that will be sent once our blog post goes live. The goal is to create a "peppered" social media approach. Think of it like this–rather than hitting all of our social media feeds at once, a queued method will slowly drip our campaign to our feeds over several days, weeks, or months. A well-executed queue may look something like this:
On publish – Social message sent when blog post goes live
Same day – Initial social messages trickle out to your accounts over the next 2-3 hours.
Next day – Messages are shared again on the appropriate social channels.
Next week – Another series of messages are pre-scheduled and sent the following week.
Next month – Even more social messages are pre-scheduled for the following month.
Next _____ – Additional messages can optionally be scheduled for the three-month mark or beyond.
Here is a simple example that we use here at CoSchedule for our primary Twitter account. We have found a queue like this to be be very effective at driving traffic and retweets week after week. Having more than one message in the queue also helps us maintain a nice consistent presence.
Obviously, you won't want to use the same schedule for each network, as some may require more restraint than others.
For example, it is less advisable to promote the same post to Facebook twice in one day than it is on Twitter. You will need to monitor your own user activity to measure the most effective sharing schedule for each network. This is where proper staggering comes in.
Remember, the goal is to promote your blog with social media, not take over your social media feeds. Go too far and you will just come off as annoying.
A simple way to prevent you messages from running on top of each other is to create a visual timeline for your social messages. Start by listing all of the networks you use at the top of the page and work your way down a simple timeline. This visualization can also be carried over to an actual calendar.
Want to use Click to Tweet on your blog?
Creating A Promotion Schedule In CoSchedule
CoSchedule, it just so happens (wink wink ), does an excellent job of helping you create a steady social media presence for your blog. One of the problems that we set out to solve was this very issue of blog post promotion. We want it to be as easy as possible to promote and share your blog content with the world. We've solved the problem in a few ways.
Social Media While You Blog
First and foremost, CoSchedule allows you to create your social messages while you blog. This is a major workflow shift for those of us who are used to creating our blog post in one tab, and promote it in another, and that is an important change.
For many users, being able to create social messages at the time of post creation is a totally new concept. Most applications require us to have a published post (because of the link back) before they can be created. This puts a speed bump in our workflow. By creating social media while we blog, we allow the workload to be better distributed across our team, and completed successfully more often than ever before.
Many users become more successful at promoting their blog with social media when they can do it both at the same time they are blogging and in the same place.
Connected To Every Post
CoSchedule allows us to create social messages right at the bottom of our post inside of WordPress. Each message is customizable, with unique hastags and text. Even better, the date and time that each message goes live is set relative to the post publish date meaning that you can easily move your post from one day to another without having to rework your schedule.
Create A Queue
The complexities of social media sharing are only increasing with each day as new social networks are added to the mix. CoSchedule makes a distributed message queue fast, easy and painless. Simply add a new message to the list and publish the post when you are ready to share them with the world. From there, CoSchedule will send your promotional messages one post at a time. We'll even include Google Analtyics tags or Bit.ly links if you need.
Sync With Buffer
One of the go-to tools for social media promotion is Buffer, an app that allows you to create a staggered messaging schedule that is gradually shared with your audience. Buffer users are able to sync their CoSchedule posts directly to their Buffer account, allowing you to use both applications together to create the most powerful blog promotion tool on the planet.
How A Promotion Schedule Can Help You Go Viral
Have you ever had a post go viral? This bucket list item for any blogger is both a stroke of luck and an act of strategy. Julie, our writer here at CoSchedule, found this out on her Lone Prairie Blog when one of here posts suddenly went viral–a full month after it was originally published–all thanks to her to strategic message queue.
You can see the culprit messages here:
About the message, and reaction, Julie says "The original publishing date of the post didn't cause much interest, beyond regular readers, nor did any of my posts on Facebook, Twitter, Tumblr or LinkedIn. It was a little tweet I sent out, just one tweet, a month later. I was very glad I had put into place a structured system that didn't just blast out one social message on the moment of publish and call it good enough."
I couldn't have said it better myself. A viral post doesn't come around very often, but you certainly increase your chances when you are using a schedule to promote your blog with social media.
Keeping Your Social Messages Sharable
So, you're thinking: that all sounds good and well, but won't I come off as a spammer?
This is where the strategy comes in. Not only do we need to properly stagger our messages out over time and across several networks, but we also need to add variety and life to our messages. There should never be a reason to send the same message twice. Writing social messages can be tedious, but the significantly increase your chances of gaining measurable momentum.
This is where plugins like Tweet Old Posts get it wrong. They simply put our messaging on auto-pilot, missing the big opportunities that come from a social sharing strategy. The cure for this is to use several different message types to promote and share your blog post. There are more than few to choose from. Here are a few that work great, and are easy to execute.
Straight And Easy
This the most simple kind of message, usually with nothing more that the post headline, a few hashtags, and a link back to the post. This is the perfect "first tweet" for any post and totally ok. Using the right hashtags, and occasionally prepending the message with something like "New Post:" can be helpful. The way I look at it is that you get one shot, and one shot only with this type of message. After the first one, you need to dig into another bag of tricks.
Want to use Click to Tweet on your blog?
Ask A Question
Many bloggers ask their users rhetorical questions throughout their post, or end on a question to stir up conversation. Grab this question and pose it to your social media audience as a way to further promote your post and engage users on your various networks. When you do this, make sure that you provide enough context around the question so that your readers can follow along. It won't do you any good if it simply confuses them.
Want to use Click to Tweet on your blog?
Cite A Fact
If you have included any interesting facts or statistic within your post, take a minute to add them to your message queue with a link. These elements are usually very engaging and likely to draw interest from some of your readers, even a few readers that have already seen a link to the same blog post. You might be surprised at how many click-throughs you get with each share.
Want to use Click to Tweet on your blog?
Share A Tweetable Quote
Often times, you will find clever one-off quotes within your blog posts that could be easily repurposed as a tweet or social message. These simple one-liners make for easy work when sharing your content across the social web. Get in the habit of earmarking them as you write and edit your post.
Want to use Click to Tweet on your blog?
Google+ Snippet
Some social networks, like Google+, allow you to post rich text snippets to your wall with a link attached. This is a great way to differentiate one post from another. Break your post up into a few different topic snippets and schedule a message for each. Not only will this create engaging content for you network, but it will also aid in the SEO value that Google+ naturally provides.
Add Intrigue
Sometimes the best way to capture attention is through a bit of mystery and intrigue. Write up a few cliffhangers and see with your followers say. These teasers are easy to create and usually create a quick and interesting response.
Want to use Click to Tweet on your blog?
The big trick here is to simply keep experimenting and making changes. No two audiences will be the same. For example, some bloggers will find questions to be far more effective than others. That's ok. The key isn't to follow a rigid formula, at least not at first. The real trick is to figure out what your audience loves and responds well to, and then to make it happen over and over again.
Bonus Tip: Let Your Audience Do Some Sharing Too
One of the beautiful things about social media promotion is that we don't have to do all of the heavy lifting ourself. We can get our audience to do some of the sharing for us. This is why its called the social web. So, the question we need to be asking ourselves is how can we, as bloggers, encourage our reader to promote our blog with social media?
A great way to do this is to create simple click-to-tweet messages throughout our blog posts, providing readers with a call to action to share our post with world. Through the use of some custom WordPress code, and now a free plugin, we can create tweetable quotes throughout our posts that prompt readers to share our content as they are reading.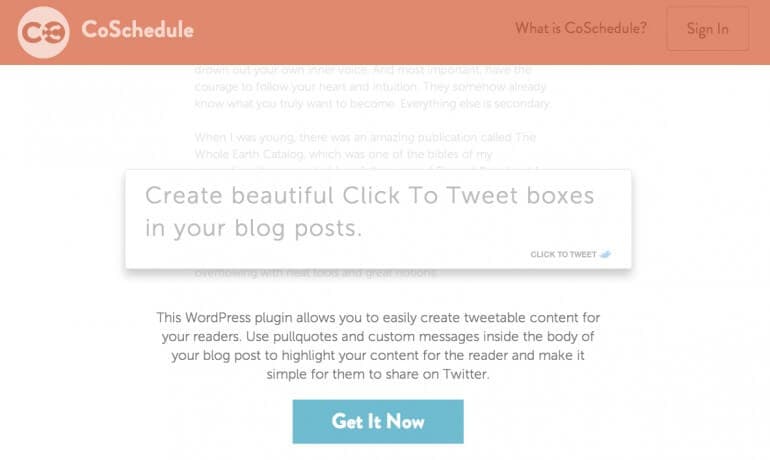 Want to use Click to Tweet on your blog?
As an added bonus, if you're already creating a message queue, then you may be laying much of the ground work necessary for creating some promotional (or sharable) opportunities right within your post. Take some of the catchy messages that you've written for your message queue and sprinkle them throughout the post using click-to-tweet links with our very own (and free) Click To Tweet plugin.
Want to use Click to Tweet on your blog?
—
Here's the deal–you can't do enough to promote your blog on social media. It is one of the most lucrative growth channels that any blogger has at their disposal. Invest some time  (and money) into improving your sharing schedule and overall social promotion strategy. You time will never go to waste.