2017 Social Media Marketing Calendar: How to Organize A Year of Content the Easy Way 70
Headline Analyzer
The blog post headline analyzer will score your overall headline quality and rate its ability to result in social shares, increased traffic, and SEO value.
Test every headline before you publish. Try the Headline Analyzer »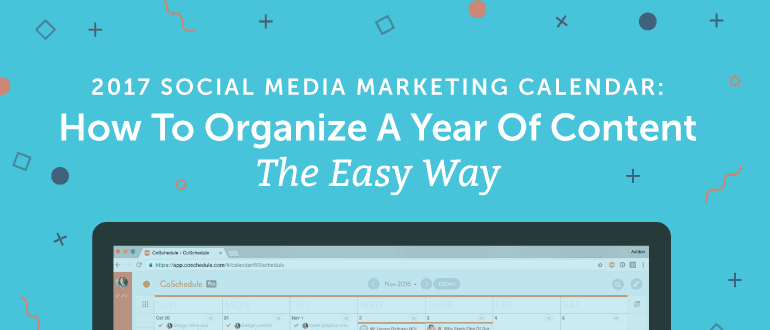 Managing social media marketing isn't easy. It's even harder when you don't have a plan.
Unfortunately, "without a plan" describes exactly how too many businesses approach social media. They'll wait until a holiday rolls around to create quick posts to celebrate. Instead of planning cohesive campaigns, they'll just slap random images and links together and call it good. Then, they'll wonder why nothing is performing the way they expected.
You can do better.
In this post, we'll show you how to use a social media marketing calendar to plan your entire strategy 2017. We'll show you how to:
Devise your overall strategy for 2017.
Plan your campaigns and events ahead of time.
Map out the structure of your social media calendar for the entire year.
You don't have time to waste. So, let's get started.
Download Your Free 2017 Social Media Marketing Calendar Template Bundle
Make planning your social media strategy easier with this free resource bundle. It includes everything you need to succeed this year:
A social media calendar template spreadsheet you can use to plan every post.
A social media campaign template for creating and storing campaign assets.
A social media strategy template to help you select channels and more.
A social media content strategy template to help you set goals (and determine what you'll create to reach those goals).
A social media campaign proposal template to land you more clients.
A How Often to Post On Social Media infographic to optimize your post frequency and schedule.
Why Do I Need An Annual Social Media Calendar?
Planning an entire year in advance might sound excessive.
It isn't.
Certainly, you aren't going to plan every single piece of social media content you'll produce right away. However, you can plan out your campaigns and seasonal messaging ahead of time. This will help you create content strategically and with a purpose by thinking things through in advance instead of just winging it as you go along.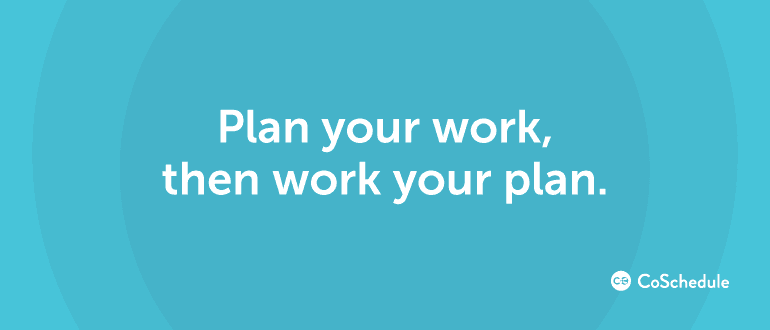 At CoSchedule, we like to say, "plan your work, then work your plan." That's exactly what an annual social media calendar makes possible. It makes it easier to work faster in less time with actual purpose behind what you're doing. Those are the keys to maintaining efficiency and effectiveness while maintaining your sanity in social media marketing.
How to Plan Out Your Social Media Content
Before you get too far along, do a quick audit of your social media presence. Start by asking yourself a few questions:
Which social media channels are we on?
Which channels should we consider adding?
Are any platforms underperforming for us?
Once you've determined which platforms you'll use this year, it's time to move forward.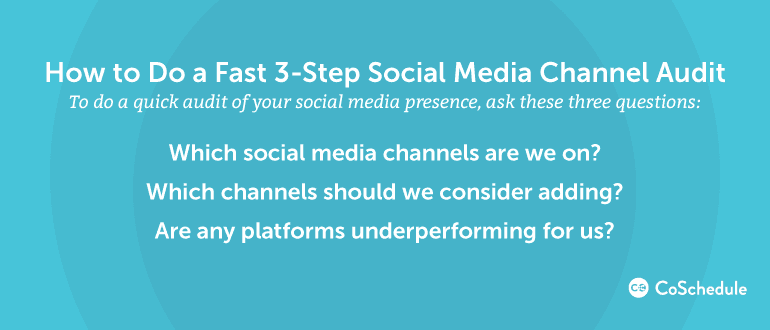 Which Types of Social Media Content Will You Create?
Next, figure out which types of content you'll create. This might seem obvious. You just create social posts, right?
Well, not exactly. Are you creating videos? Standalone social images? Maybe you've got a strong GIF game? Thinking this through can help you identify types of content you haven't tried before, and it'll come in handy when you actually start building your calendar.
Plan Out Campaigns, Themes, and Events
Now you're ready to sketch out the skeleton of your social media calendar.
Like we said earlier, you probably don't know the specifics of every social message you'll publish this year. That would require an impossible level of foresight and fortune-telling. However, you can plot out some general themes and ideas you'll create content and campaigns around.
Start with things you know will come up throughout the year. These could include:
Holidays

. This is especially important for holidays that have particular importance for your company or blog.

Seasonal sales events

. If you know which times of year are particularly good for sales, plan to give your social

Product or feature launches

. If you have release dates or a product roadmap laid out for new features, mark them off on your calendar.

Recurring annual campaigns

. Are there any marketing campaigns you relaunch every year?
Next, consider planning out monthly marketing themes. When we say "theme," we mean topics or focus areas you could plan campaigns to promote. This could mean campaigns promoting specific products or features, or topics you want your content to cover. This is similar to how monthly magazines typically have a central theme for each issue.
Then, consider which other marketing campaigns or plans you might have lined up that will need a social media component. This could include:
Contests

. Do you have contests you run every year? Get prepared ahead of time and put it on the calendar now instead of later.

Your blog or print media editorial calendar

. Much like traditional magazine publishers, companies often have editorial themes for the year planned out on an editorial calendar. If your marketing team such a calendar prepared, make sure your social media calendar is filled with content that lines up with the same themes and helps promote that content.
Lastly, think about other marketing goals you have that social media can help support. Here are a couple examples:
Driving email newsletter signups

. If you're looking to build your email list, consider adding posts each month specifically to promote your newsletter.

Getting foot traffic into stores

. If your business has a brick-and-mortar presence, you may want to make sure you have a certain number of posts each month encouraging people to go to your stores.
Key Takeaway: The overall idea here to map out everything you know will be coming up in 2017. Of course, there will be things that come up spontaneously throughout the year. If you plan ahead for what you know you'll need to create now, you'll be better prepared to tackle other things as they come up, too.
Brainstorm Tons of Social Media Campaign Ideas the Easy Way
Next, let's take some time to plan out campaign ideas for the year. You don't need to create complete campaigns yet. For now, we'll just generate some creative concepts you can implement throughout the year.
Use Our Three-Step Brainstorming Process
Here's an easy brainstorming process we use to generate content ideas here at CoSchedule.
Get your team together and write down as many ideas as you can think of in ten minutes.
Spend another ten minutes scoring those ideas as a team on a three-point scale. Assign a 3 to ideas you absolutely love, 2 to ideas that are average (but could be better with some polish), and 1 to ideas that are duds.
Finally, take all your ideas everyone agrees are a 3 and decide which ones to implement.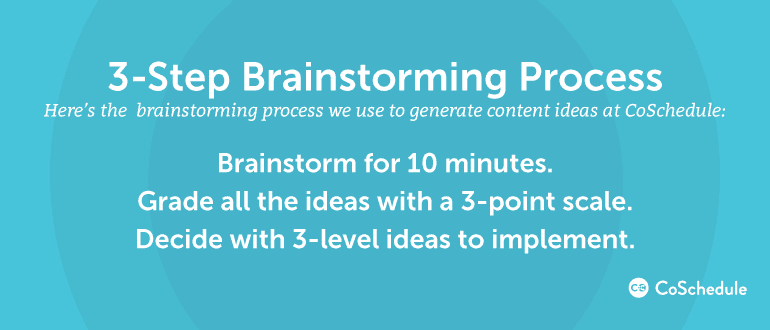 With this process, you should be able to come up with tons of creative campaign ideas quickly. You can then spend more time building out each campaign and planning when they'll launch throughout the year. If you come up with a dozen ideas, you could have one creative campaign per month to run alongside the rest of your content.
Now, Add Everything Onto Your Calendar
Now it's time to put all the nuts and bolts together on your calendar.
If you haven't already, download the 2017 social media marketing calendar template included in this post. Here's what it looks like: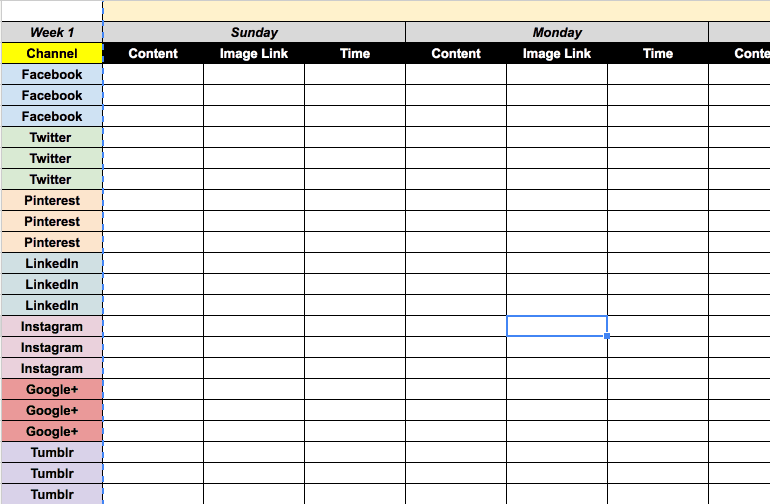 You'll notice it's broken down into the following fields:
Days of the week

. Weekends are included, but can be removed if you don't publish on Saturdays or Sundays.

Social channels

. You can edit this to include the platforms you use.

Content

. This is where you enter your post copy.

Image link

. This is where you can post a link to image and video files hosted on your choice of cloud storage service (Google Drive, Dropbox, etc.).

Time

. This is the time of day each post is planned to be published.
At the bottom, you'll see tabs for each month of the year:

The next step is to start filling in as much content as you can right now. This entails marking off all your planned campaigns, events, themes, and so forth that we mapped out earlier.
Tip: It's a good idea to color-code your calendar. You can use different colors to denote posts that are part of the same campaign, posts that certain members of your team are responsible for, or any other scheme that makes sense in your situation.
Once you start adding content, your calendar will begin to look like this:

You get the point. Keep going until your calendar is full.
And remember, you don't have to fill in each individual post right away. For now, we just want to make sure you have all your campaigns, holidays, and seasonal events mapped out on the calendar so you can build them out when the time comes.
This is all about being prepared now, so you can execute better later.
Tip: If your entire team will be working in one calendar, the template included in this post can easily be imported into Google Sheets or Office 365. Cloud-based options make it much easier for everyone to collaborate on one calendar.
Do This All the Easy Way With CoSchedule
Spreadsheets are a cost-effective solution for building out social media calendars. When you're ready to move up to a dedicated calendar tool, however, CoSchedule is here. We're firm believers in using tools designed for specific jobs whenever possible, and there's a reason why we're the number one selling content calendar solution out there.
Now You're Ready to Rock Your Social Media Marketing in 2017
With all the information and templates in this post, you now have everything you need to build a successful social media game plan. You'll always be prepared for what's next and in control of your content, connecting with audiences and driving real results for your business. If you have any organizational or content calendar tips of your own, share them below!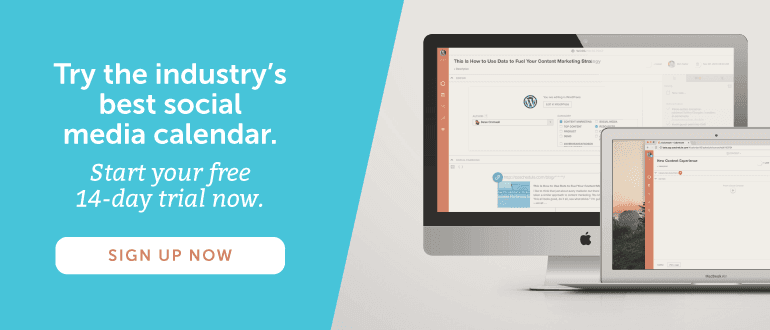 January 13, 2017