Published November 16, 2023
/
Updated November 16, 2023
Social media marketing requires both strategy and creativity. While it may seem overwhelming, its importance cannot be overstated. It's important to use social media for your business in order to survive the competitive market. In fact, 72% of companies use social media data to make informed business decisions. Let's go over the 25 reasons why you should implement social media into your business's marketing strategy.
1. Builds Brand Awareness & Recognition
Gaining brand awareness and brand recognition is one of any business's most important marketing goals. That's because consumers want to buy brands they recognize. Many shoppers have certain degrees of brand loyalty, which leads to long-term business benefits. Social media allows for easy and effective brand building.
Social media has a benefit over traditional media because it can get your brand in front of people much more quickly and easily. It gets your audience looking at your brand even when they aren't thinking about your brand or product.
Tip: Pay attention to your profile and cover photos. A great way to create brand recognition is to place your logo often yet strategically. You want to make sure that it's not overwhelming or distracting.
Make sure the visual elements of your brand are well represented.
Take a look at Adidas' Twitter page. They place their recognizable logo on both their profile image and cover photo without being overbearing. This cover photo is especially effective because it showcases Adidas' products while enforcing their brand name.
2. Generates Conversation Around Your Brand
A strong social media marketing strategy will generate conversation about your brand, products, and partners. Take this example from Xbox Game Pass on Twitter. They simply tweeted to announce the availability of one of their games on EA Play. By doing this, they received a great amount of feedback about their product.
Tip: Engage with your audience when they comment on your social media messages. Make sure they feel that there is a person behind the brand. Focus on sharing content that naturally creates conversation. Some of those ways are to:
Give shout-outs to other companies you network and work with.
Solicit feedback about your products.
Ask open-ended questions, then let the audience reply to get them actively involved.
3. Helps Understand Your Target Customers' Interests
You need to know what your target customers are interested in if you want to reach them effectively. You can do this by monitoring their social conversations by social listening, which can help you understand what's important to your audience while identifying trends they're following.
Take a look at Belk on Twitter. Their target audience's interests align strongly with the women's empowerment message portrayed in this tweet. If you're unsure how to match your target customers' interests, social listening can help.
Tip: Make it a priority to do some social listening and see what your target customers are talking about in your industry. If you want to take your social listening to the next level, check out Mention (the same social listening tool used by the CoSchedule team).
4. Provides Platforms To Tell Your Brand's Story
Using social media is a great way to share your brand's mission and share stories. Effective storytelling can have a great impact on your brand's image. These stories can be simple or extensive, depending on what you think will be most effective.
Take this Starbucks post, for example. They chose to share a video that tells the story of a customer who had a heartwarming experience at a Starbucks drive-through. Not only did they show how they impacted one of their customers, but they also spread the message that their product (or service) is effective enough for someone to give them positive feedback.
Tip: Not all stories have to be long and complicated. As long as it tells a good story, it can effectively help your business's public image.
5. Helps You Gather Data About Your Audience
Audience research is similar to social listening. It searches the keywords your audience will be using, but it's more focused on your specific product.
Tip: Many social media platforms allow you to view the reach and insights of all your posts.
To view the insights on your Facebook page:
Log into Facebook, then click your profile photo in the top right.
Click

See all Profiles,

then select the Page you want to switch to.
Click

Insights

in the left menu.
To view the insights on your Twitter page:
Go to the tweet you want to see the analytics for
Underneath the tweet, click on the "analytics" icon on the far right, or…
On your Twitter page, click on the "More" tab on the left side of your screen
Click on "Analytics" to see broad metrics that aren't specific to any post
To view the insights on your Instagram page on the mobile app:
Go to your profile
Click on the

Insights

 button
Tap the metrics under the Overview section or specific content you've shared for a more detailed breakdown.
6. Helps Provide Responsive Customer Service
Investing in customer service via social media fosters relationships. Prompt interaction and feedback lead to recommendations, 71% of consumers who have a positive social media experience with a brand are more likely to recommend it.
Take this example from Spotify's support Twitter account. A customer decided to ask a question via Twitter, and Spotify was able to answer it and help resolve the issue within a couple of hours.
Tip: Assuming that you have separate teams for social media and customer service, it's important to maintain a strong line of communication between the two.
7. Builds Customer Loyalty
Customers follow and interact with the brands they enjoy. In fact, 90% of people say they buy from brands they follow on social media. If customers follow you, they are more likely to choose you versus your competition.
Tip: Be sure to keep your loyal audience engaged and happy. Here are a few ideas:
Offer promo codes for discounts through social media to your followers (while remaining mindful of Facebook's promotional content guidelines).
Ask open-ended questions that allow your audience to reply.
Give away inexpensive things such as stickers, patches, shirts, sunglasses, lanyards, hats, and Koozies that will make a long-lasting impression.
8. Drives Traffic To Your Website
Social media marketing can assist in sending customers directly to your site, and allow for more diverse inbound traffic streams. Though social networks are great for getting traffic to your site, you need to consider not only what to post, but how often to post as well. It's good to follow a set schedule for posting your content.
Tip: Use bit.ly to shorten your links and place them within your posts and profiles. The shortened links will save space and not look overbearing to the audience. (You can do this with the bit.ly integration in your CoSchedule social media calendar.) Below, Best Buy used a bit.ly link to bring people from their tweets to their website.


Source
9. Tweets Can Show Up In Google Searches
Social media aids link-building and indirectly impacts SEO. Google and Bing display tweets in search results, especially for trending topics, allowing users to see relevant conversations.
Tip: Using a social media scheduling tool like CoSchedule's Social Calendar can help you plan your social media posts so your content can be found and linked to.
10. Helps Identify & Connect With Potential Business Partners And Collaborators
Here are some ways you can leverage this to benefit your business:
Tip: Consider building your own Facebook or LinkedIn group about the industry you're in. You can see conversations about the industry as a whole that can help you with your marketing and product development.
11. It's Cost Effective
Organic social media marketing is free, but you can pay for promotion to boost exposure beyond organic reach.
Tip: Don't write organic content that sounds like an ad. It'll make your posts look like spam. If it sounds like an ad or includes a transactional call to action (ex: Buy Now, 30% Off, Use This Coupon Code), you should pay for it.
To ensure a professional look and wider reach, invest in paid social media advertising. Unpaid ads have limited reach due to platform restrictions.
12. Helps With Repurposing Content
Everyone knows recycling is good, so why not recycle your content? You can repurpose the same content that you have on a blog post or video and place it on your social media platforms. It will help strengthen your brand's messaging and can even give your content an SEO boost.
For example, Neil Patel frequently uses his tweets as Instagram posts. By doing this, he reaches those who might not have a Twitter account.
Tip: You can slightly alter each post to make it more unique. It won't be exactly the same content, but a majority of the work is already done, and this is a quick way to fill your social media calendar.
13. Social Media Retargeting Ads Can Re-engage Website Visitors
Retargeting is a valuable social media marketing tool. It helps recapture 92% of consumers who initially don't make a purchase on your website. By placing cookies in their browsers, retargeting display ads on social media, and keeping your brand visible to potential customers even after they leave your site.
Tip: There are some great retargeting tools out there that are easy to use. Check out those tools and find one that works for you. Use them to promote your product, but remember not to annoy your customers.
14. Makes It Easy To Distribute Content
You've created great content, and social media can help you share it with your target audience. With 9,729 tweets sent per second and 5.6 billion Google searches, social media can boost your content's visibility. You can also post on multiple platforms at once, and Facebook offers seamless cross-posting to Instagram, so you can share content both ways.
Tip: By using a social media calendar, you can plan your social media content ahead of time. Then, when it's time to publish, you can just sit back and let the platforms do their jobs.
15. Helps You Stay Current With Industry News
When your industry makes a sudden change, you're going to want to know why. For example, Google changes its algorithm quite frequently. You can stay up-to-date by following them on Twitter. This way, you can stay current with news that affects your business.
Tip: When learning about industry changes, you'll want to ask yourself questions to see how they might affect you and your company. Social media helps give you information you can use to see how your company measures up and how you might have to adjust your strategy.
16. Social Proof Can Improve Content Performance
Think of your website like a restaurant. Just as you'd choose a bustling restaurant over an empty one, people prefer content that's popular and shared. High shareability often indicates valuable, authoritative, or creative content. Check Woorank's Google Core Web Vitals blog post as an example – it's widely shared, which encourages others to share it too.
Tip: You can include buttons on your blog and website to display how many shares your content has gotten. These buttons are convenient and allow for quick sharing.
17. Provides Outlets To Share Company News & Updates
Social media is one of the best and easiest ways of keeping your customers updated with your news. If your business makes a huge announcement about a new product or an exciting event, it'll catch on and get people excited.
When e.l.f. Cosmetics and Skincare announced they expanded where they were shipping products, a lot of people started talking about it. In just this one Instagram post, they received almost five thousand likes and over 200 comments.
Tip: So, what type of news should you share?
New products
New services
New updates
New expansions or departments
18. Can Help Establish You As A Thought Leader
Everyone wants to be seen as a leader. You want people to look at you and your content first whenever they have a question. So how do you stand out ahead of the crowd of other business professionals in your industry? Social media can help with that.
For example, Seth Godin uses Instagram to make connections with people and facilitate discussions about marketing. He uses social media to connect with those who see him as a thought leader.
Tip: Becoming a thought leader takes time. Start by identifying existing thought leaders in your field and ask how you can promote yourself like they do. Then, build connections and foster discussions with your followers.
19. Can Help You Identify Trends In Consumer Behavior & Opinions
Social media can influence consumer behavior. Understanding how much of an influence it has is important. Social media can also give insight into how your consumers make their purchase decisions and what their opinions are of current trends. How can you find out what these trends are? Hello again— social listening.
Listening to consumers on social media reveals what's effective and their pain points. Social media offers a platform for people to share opinions on various topics.
Twitter even has a "What's Happening" section on your homepage so you can see what consumers are saying about what's trending.
Tip: TweetDeck is a social media listening tool that allows you to search for topics on Twitter to see what people's opinions are about them. You can use this tool to see what consumers are saying about you and your competitors, along with any other keywords you might want insight on.
20. Can Help You Do Competitor Research
At least 4.48 billion people are on social media… and that includes your competitors. The first thing you need to do is identify who your competitors are and what their social media strategy is.
You can do this by keeping a close eye on their social media profiles and analyzing what type of content they post. You can even use different analytic tools to see how you and your competitors compare.
Of course, you'll be able to see how many likes each post gets, but if you want to dig deeper into how you compare to your competitors, you can use tools like Rival IQ to see activity and engagement rates.
Tip: Doing the research is a waste of time if you don't use what you learned to better your own company. Ask questions like:
How do they handle these issues?
What are our competitors' numbers?
How do they compare to us?
See how others navigate through their campaigns and take notes.
21. Social Media Can Be Used For E-Commerce
Many social media platforms now offer e-commerce features that allow users to purchase products directly within the app. This streamlines the purchase process and increases conversion rates for businesses.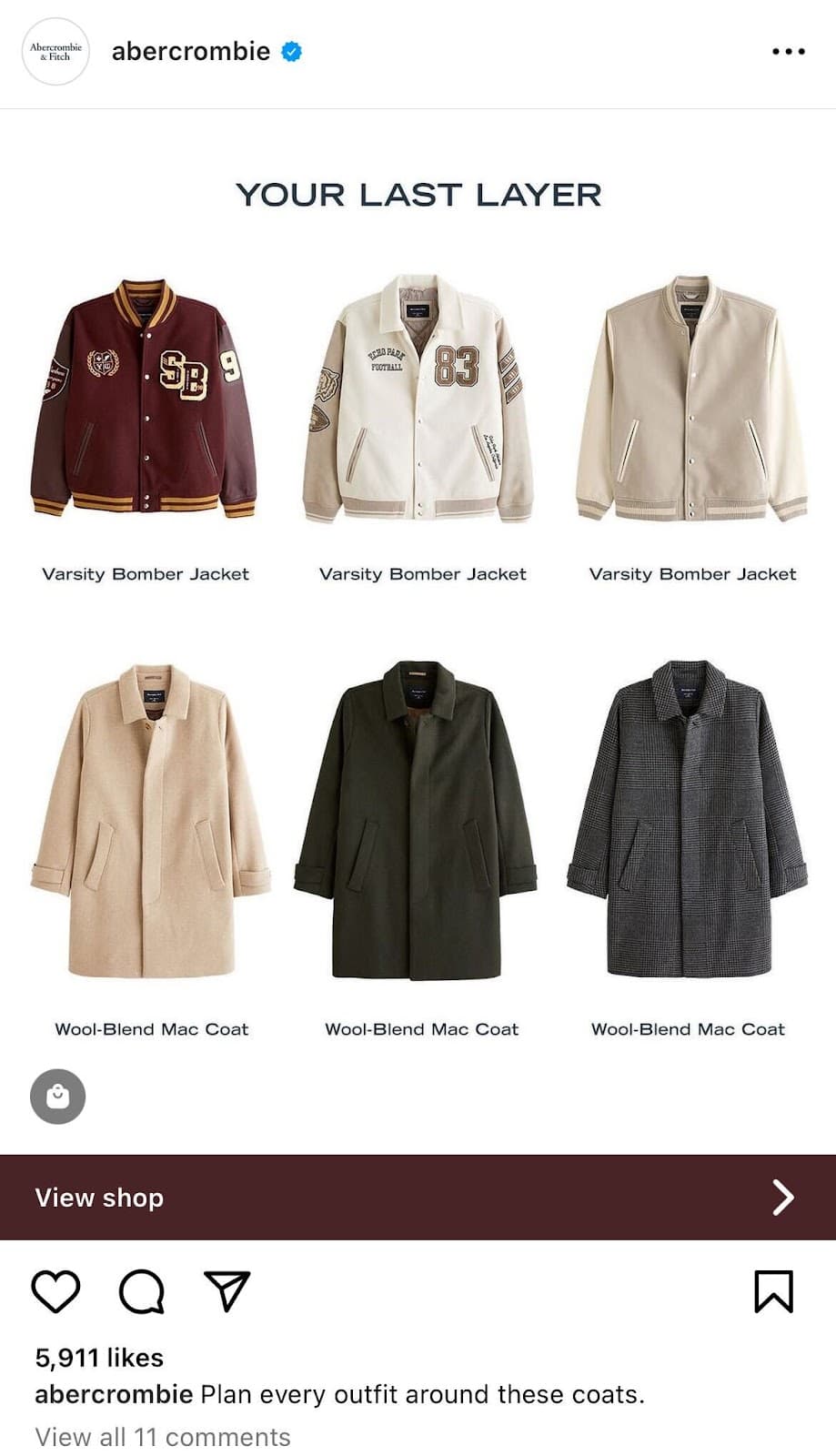 You can link directly to your products through an Instagram post, take this example from Abercrombie. This method is very appealing to customers because they don't have to leave Instagram in order to purchase an item they like. The less work the customer has to do, the better.
22. Can Be Used To Deal With Crisis Management
In times of crisis or negative publicity, social media provides a real-time platform for addressing and managing issues. Brands can respond quickly to customer concerns, share accurate information, and demonstrate transparency. Effective crisis management on social media can help protect your brand's reputation and regain customer trust.
Burger King made a post on X that said, "Women belong in the kitchen." Although their intention was not to be sexist, their post was extremely distasteful and offensive to viewers. They quickly redacted their post and made an apology to clarify their original intent.
23. Shows Employee & Volunteer Appreciation
Social media is a great place to show employee appreciation and to advertise events, charities, and any volunteer work that the company has done. This shows customers and viewers that the company cares about their culture and community, and is appreciative of their staff.
Mom's Helping Mom's Foundation made this post on LinkedIn as a way to say thank you for all of the volunteer work that Melinta Therapeutics did for them. This is great to show appreciation and to call out a great company so they get the recognition that they deserve.
24. Allows Content To Reach Global Audiences
Social media provides businesses with a cost-effective way to reach a global audience. It allows companies to connect with potential customers in different parts of the world. This level of global reach and accessibility is beneficial for businesses to expand their international presence or export products and services.
This image shows the percentage of the population using social media. It goes to show that social media is widely used and is a great way to get the word out about your company.
25. You Can Post On Diverse Content Formats
Social media allows for the creation and distribution of a wide range of content formats. You can share text-based posts, images, videos, infographics, podcasts, live streams, stories, and more. This lets you engage with your audience in ways that resonate with them, and provides an opportunity to experiment with different content types.
Here's a list of the top social media channels you can market on. It is a great reference tool to look back on when you are wondering what content to post where. By following this guide, you can make sure your post gets the most interaction and success.
This piece was originally published in November 2021 by Mackenzie Wutzke. It was updated in November 2023 by Brier Gurholt.