The Most Effective Teams Use These Social Media Marketing Tools to Up Their Game
Headline Analyzer
The blog post headline analyzer will score your overall headline quality and rate its ability to result in social shares, increased traffic, and SEO value.
Test every headline before you publish. Try the Headline Analyzer »
There are A LOT of social media marketing tools available. According to Scott Brinker from Chief MarTech, there are approximately 320 social media marketing tools available in 2019.
You're right feeling like there are boatloads to choose from.
With so many options, it can be challenging to flesh out which one is right for your team.
Maybe you've outgrown your tool and want to see if there's a better option to fit your needs. Maybe you've inherited the social media tool you're using and it's lacking some key functions.
OR Maybe you're just wondering how the landscape has changed.
Well, you've come to the right place.
In this post, I'm breaking down all of the best social media marketing tools available. I'll do my best to outline key features, unique selling points and what type of customer is best suited for the tool.
Let's get started, shall we?
What Social Media Marketing Tools Are Included?
As you can imagine, it'd be pretty dang hard to include all 320 options. For the sake of time, I included an in-depth list of all the top choices according to various software rating websites like G2Crowd and Capterra.
That said, this isn't a totally comprehensive list, but it will provide you quite a few great options to help you find the right social media marketing tool that fits your team's needs.
Full disclosure: I've spent hours comparing and analyzing different feature sets for each tool and have tried to be and transparent and honest as possible. If I missed a feature on any of the tools, Tweet me @leahdekrey and I'll amend.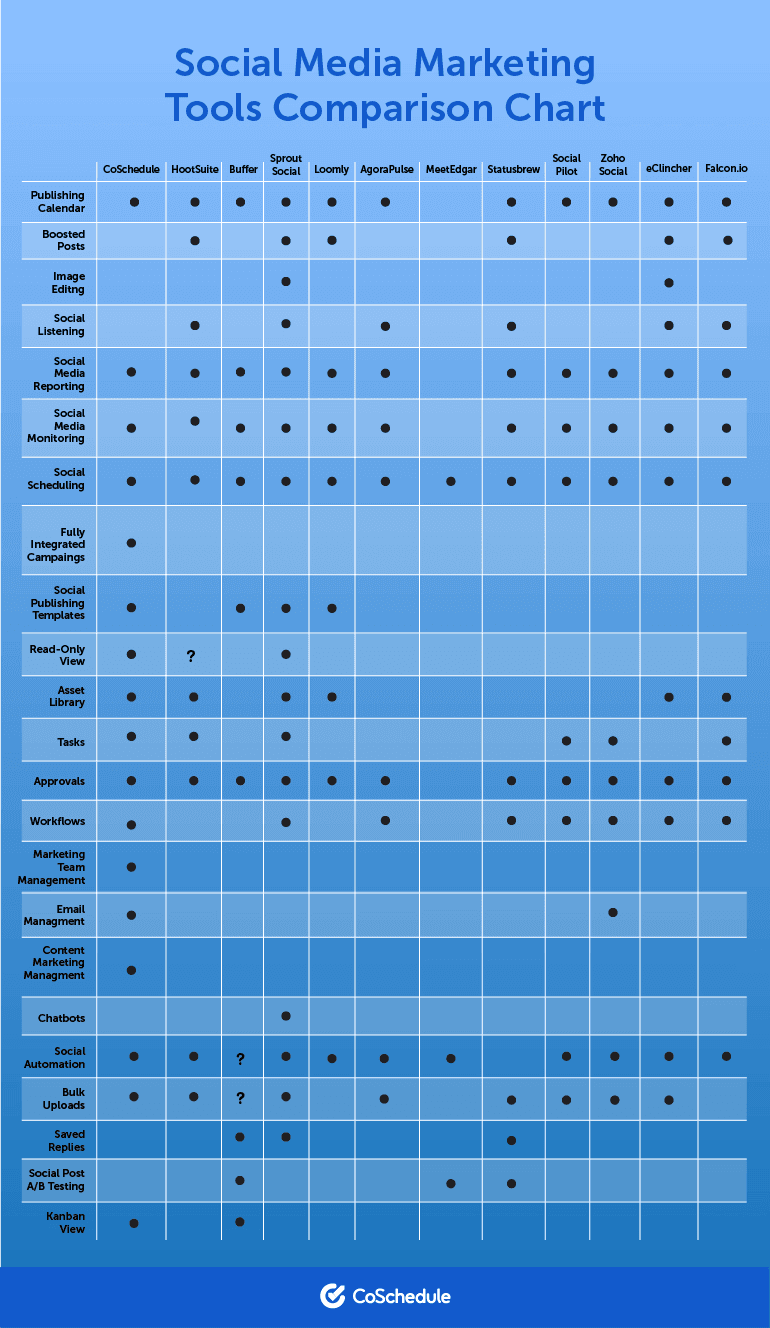 Prefer to get your TL;DR comparison chart in PDF instead? Download it below:
Let's Start off With CoSchedule's Social Media Organizer
The Social Media Organizer from CoSchedule is a complete social media marketing tool that allows you to plan your social media strategy alongside all your other marketing initiatives.
Here are some of its most powerful benefits:
Social Automation
What's ReQueue?
It's essentially your social media wingman (or woman). It allows you to reduce the amount of effort it takes to manage your social media channels by automatically re-sharing your most important social posts. You'll get more mileage out of your evergreen content and better engagement from your audience.
This feature is included in all Social Organizer Plans.
Here's a quick and dirty run down of how it works.
Monitor Social Media Conversations
Funnel incoming comments, direct messages, and mentions with CoSchedule's Social Media Organizer. No need to have a seperate social media monitoring tool!
Answer all your social media messages with a single inbox so you can engage and respond to customers without missing a thing.
This feature is included in Professional and Enterprise Social Organizer Plans.
Social Media Campaigns
Create full-scale social campaigns for your next event, product launch, or major marketing initiative.
Promotion is crucial to the success of your marketing initiatives.
With Social Campaigns, you can keep your entire social promotion organized in one place, schedule dozens of social messages in seconds, and easily make quick edits with a couple clicks of the mouse (or drag-and-drop).
This feature is available on all Social Organizer Plans.
Social Media Reporting
The Social Media Organizer makes social reporting super easy.
Reporting used to involve pulling stats from multiple networks/tools, analyzing in spreadsheets, designing decks, and manually delivering them to those who needed to "be in the know."
With CoSchedule, you can measure campaign performance and gain valuable insights into specific social campaigns. Schedule and share recurring social analytics reports to prove the value of your work in just a few clicks.
Social media reports in CoSchedule include:
Social Engagement Reporting

-

 

Understand what type of content resonates with your audience (Growth, Professional and Enterprise plans).

Social Campaign Reports

 - Compare the results of two campaigns side-by-side (Growth, Professional and Enterprise plans).

Channel Specific Reports

- Get individual reports for each channel including, Facebook, Instagram, Twitter, Pinterest, and LinkedIn (All plans).
Standard social media channel reports are available on all plans.
Advanced reporting (Engagement, Campaigns and Top Content) are available on Growth, Professional and Enterprise plans.
You can press the easy button on reporting and have CoSchedule automatically distribute social media reports directly to your (or anyone's) inbox.
Read Only Views
Need to share your social media posts with clients or other stakeholders? CoSchedule's read-only feature puts an end to screenshots and ugly workarounds that take forever to manage.
Simply click the share button in the bottom left-hand corner to create a shareable link that updates in real-time as you make changes to your social campaign.
This feature is available on Growth, Professional, and Enterprise Social Organizer plans.
OR create a PDF to share.
Here's a preview of what your read-only link will look like. You'll see a mock-up of each social post and when it's schedule to go live.
When you're done sharing the campaign, you can break the link to revoke access.
Fully Integrated Social Media Planning
The best part about planning your social media with CoSchedule? You can bring all your marketing in one place.
Here's what I mean: The Social Organizer is powerful on its own, but it also integrates with all of our other organizers (like our Work Organizer, Asset Organizer, and Content Organizer).
You no longer have to have a project management platform, social media scheduler, content calendar and a few spreadsheets mixed in to try to manage it all.
Your entire marketing team can turn to CoSchedule everyday to see what their tasks are, what's going live, and what's on the horizon.
What's the best part? You've finally got visibility and control over your marketing chessboard.
Reusable Social Templates
Do you have a certain schedule that you like to stick to when you're planning your social media for a blog post?
With Social Templates, you can save that schedule and quickly add it to promote your blog posts in just a couple of clicks. You never have to manually plan out which days or how often you're going to promote your content on social. Set the schedule once and it's ready to reuse for all future pieces.
This feature is available on all Social Organizer Plans.
Bulk Social Media Upload
Not ready to kick your spreadsheet for social planning? No prob.
Use the bulk upload feature in CoSchedule to schedule up to 365 social messages, to multiple social profiles, all at one time.
With bulk social upload, you can upload a CSV file and convert them to scheduled social messages with a few clicks.
This feature is available on all Social Organizer Plans.
Who's the Social Organizer For?
The best part about the Social Organizer is it's suitable for teams both large and small. On its own, any business or solopreneur looking to wrangle their social media activities will benefit from using the CoSchedule Social Organizer.
However, once you mix in all the powerful features of full Marketing Suite, enterprises and marketing teams of 3 or more will find the most value.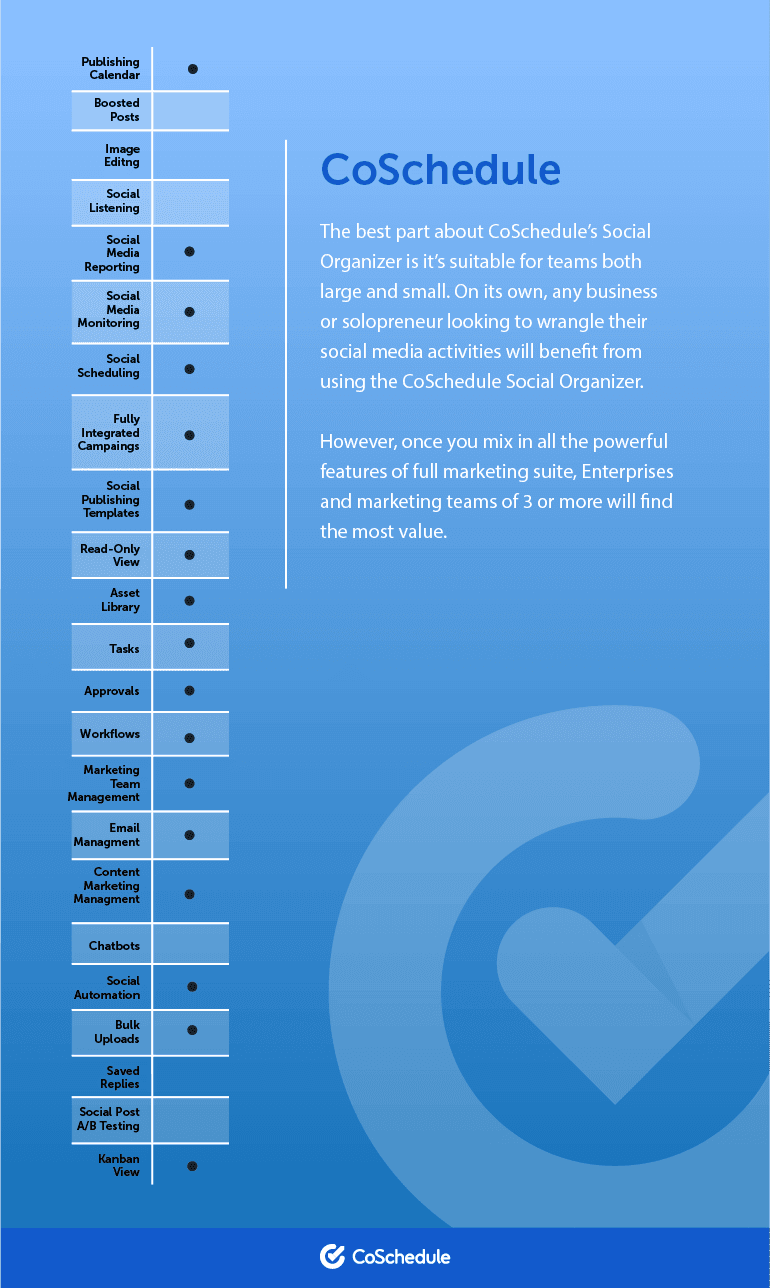 Hootsuite
Let's move on to one of the biggest players in the social media scheduling arena.
It's hard to think about social media marketing tools without having Hootsuite pop into your mind.
If you're looking for a free social media tool, it might be worthwhile to look into Hootsuite. The platform has a limited feature offering that is free to use. The company also offers more powerful plans for marketing teams.
Hootsuite offers the ability to monitor incoming social messages on all plans. They company has the ability to offer customer social listening capabilities, were you can monitor trends, keywords and sentiment on news sites, blogs, forums, and other public places.
Hootsuite allows customers to create insightful, customizable reports to measure social impact and results.
You can boost posts directly in the Hootsuite application, which is a cool feature. If you're looking for a solid social tool that is well-known, Hootsuite is a good choice.
Who's Hootsuite For?
Good question!
The tool seems to fit a lot of different use cases whether you're an individual, small team, or large enterprise.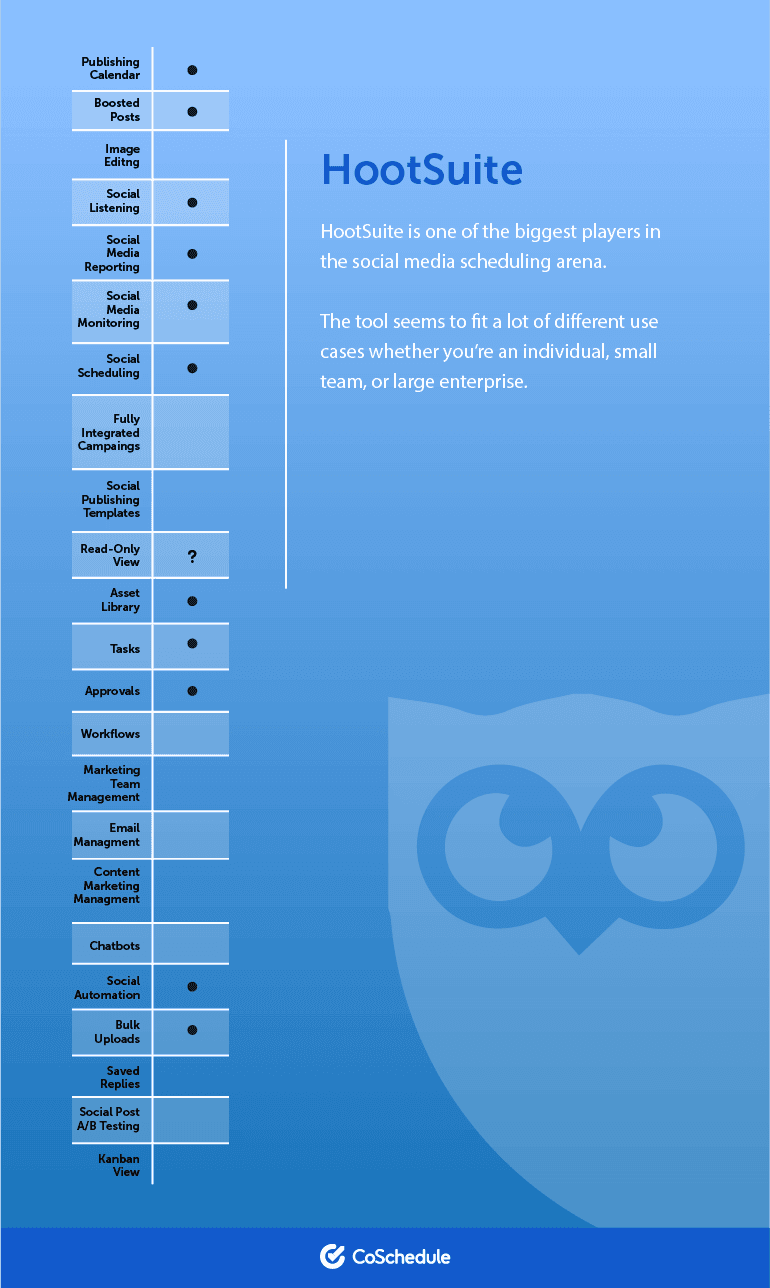 Buffer
Buffer is another giant in the social media marketing world. The company breaks its product offering into three areas: schedule, monitor, and analyze.
For the sake of this comparison, we'll use the schedule option as the base product. Everything that can be added on in its monitor and analyze products will be counted as "add-on" features.
Buffer is another company that offers a free plan if you're looking for a no-frills, free social media scheduler.
Social Media Scheduling, Monitoring & Reporting
Buffer's social media scheduler allows customers to collaborate on social media content with draft statuses, approvals and posting schedule templates.
It's a clean and easy-to-use social scheduler that gives you the necessary features at an affordable price.
Buffer's social media monitoring add on has some cool features like the ability to auto-assign incoming messages if they feature certain keywords and the ability to avoid duplicate responses with collision detection.
Buffer's social media analytics offering is an add on feature and has abilities much like other analytics offers from competitors. You can analyze your data and see things like the best day to post, type of content, and how often you should post to get the highest engagement.
Who's Buffer For?
Well… Buffer has a range of large companies using it, as well as solopreneurs.
The lower price point means it's probably most attractive to smaller businesses or solopreneurs. The ease of use also makes it super simple to get in, get your social scheduling done, and get on with your day.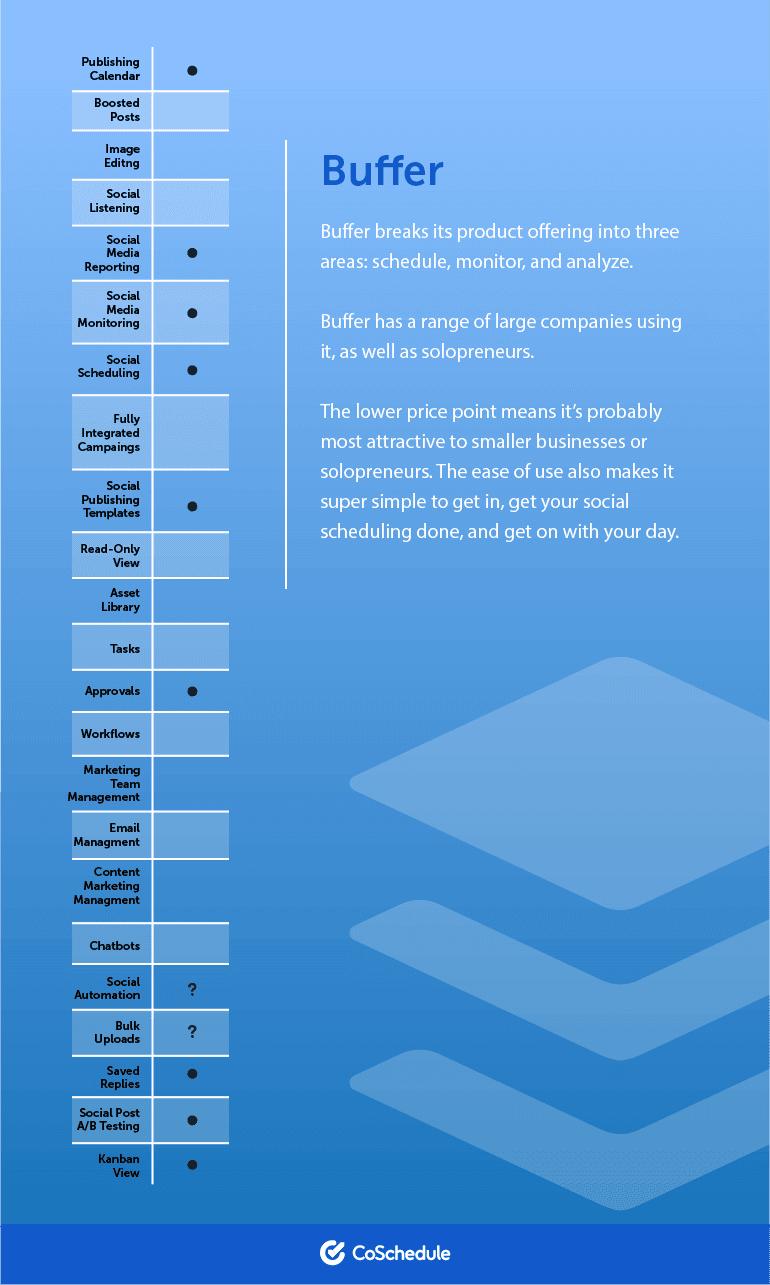 Sprout Social
Sprout Social is one of the more complete and complex social media marketing tools.
It's a powerful tool for businesses looking to communicate, analyze and manage their social channels. Out of CoSchedule, Buffer, Hootsuite, and Sprout – Sprout is the most Enterprise option and has the highest price point.
Social Campaign Planning
Much like the other tools on this list, Sprout allows you to coordinate and schedule content with social media planning tools like centralized calendar, filters, tags, and profiles. You can also edit photos directly in the tool with things like text overlay, retouching and cropping.
Social Listening, Monitoring & Reporting
Sprout Social has a powerful social listening tools that allows you to analyze keywords and hashtags, uncover share of voice and determine market share and growth.
Sprout (like CoSchedule, Buffer and Hootsuite) brings all your social inbox messages into a single stream. You can engage, like, and respond to customers across Twitter, Facebook, and Instagram.
Get insights into all your social media analytics directly in Sprout. This is a feature that nearly all social media marketing platforms offer users. However, Sprout offers some additional features like competitive benchmarking and industry average comparisons.
Who's Sprout Social For?
Sprout is definitely for large, enterprise teams that have A LOT of budget to play with. The feature set is comprehensive, so you've also got to be willing to play around with chatbots, etc. to get your money's worth.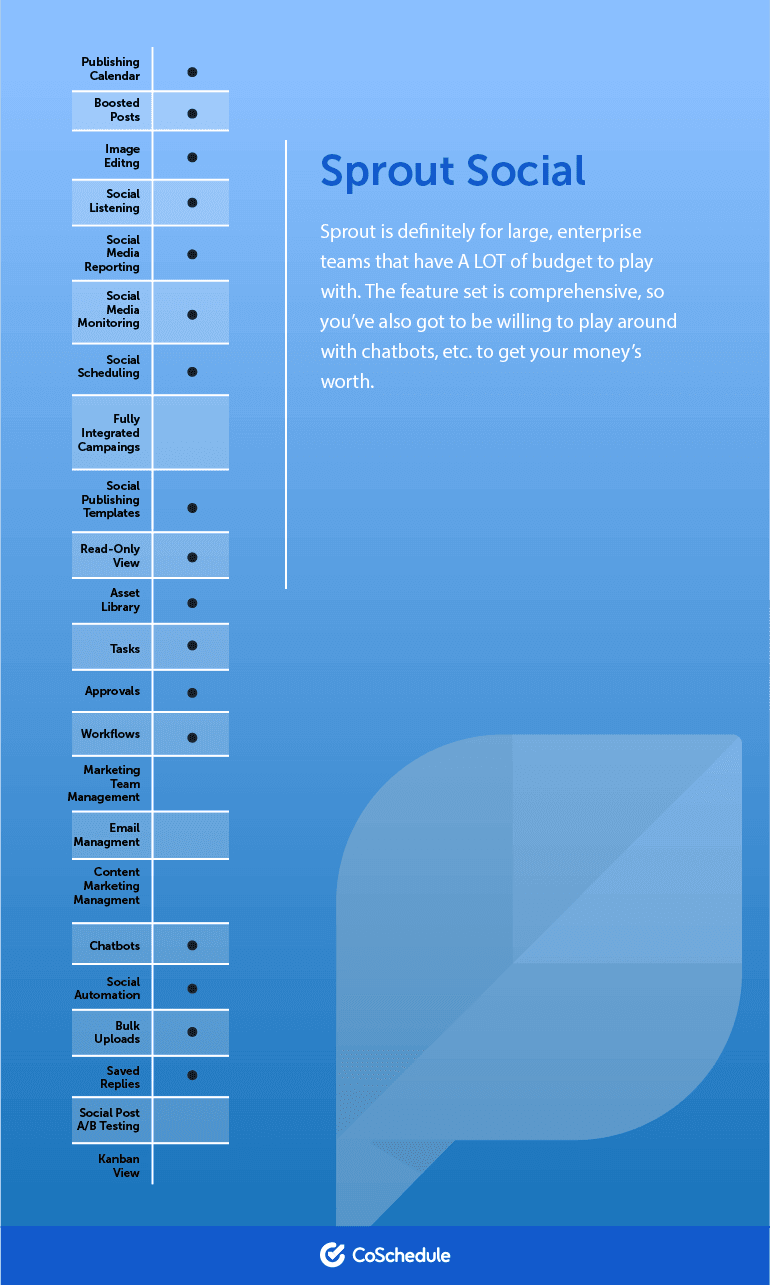 Loomly
Loomly, like Buffer, is a solid choice for someone looking for a no-frills social media scheduler. It does offer some additional advanced features like monitoring and reporting built into even the basic plan. Whereas these are add-ons with options like Buffer.
Who's Loomly For?
It seems like small businesses are the sweet spot for Loomly. The offer is a solid choice, but lacks some of the functionality to solve collaboration challenges faced by bigger marketing teams. That said, however, the company offers the highest number of users per plan. So if you're a bigger team on a budget, Loomly deserves a look.
It does have many features like social monitoring and analytics built-in to plans, unlike Buffer which offers those as add-ons.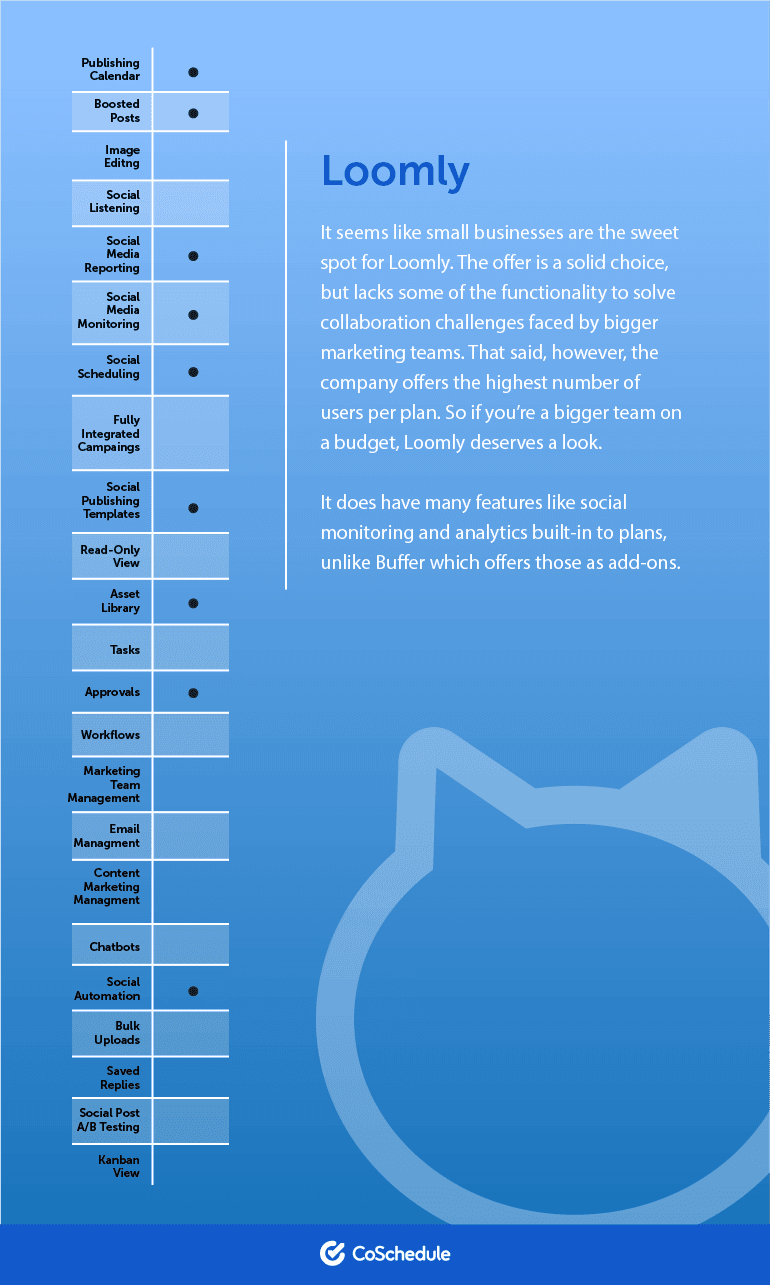 AgoraPulse
AgoraPulse is another social media solution for businesses. In fact, they don't offer any plans for teams smaller than 3 users. AgoraPulse's offering is probably closest to CoSchedule's Social Organizer. Both offer the ability to re-promo evergreen content, they both have workflow and approval settings, a calendar view, and bulk upload.
The main difference I can tell is CoSchedule offers the Marketing Calendar standard with all plans, so you can also organize your content marketing initiatives, email marketing, blog posts, product launches and marketing events.
That said, however, if you're looking for a strong candidate in the social scheduling arena, AgoraPulse should be on your shortlist to learn more about.
Who's AgoraPulse For?
Small and Medium sized Businesses, plus larger companies are definitely the target audience.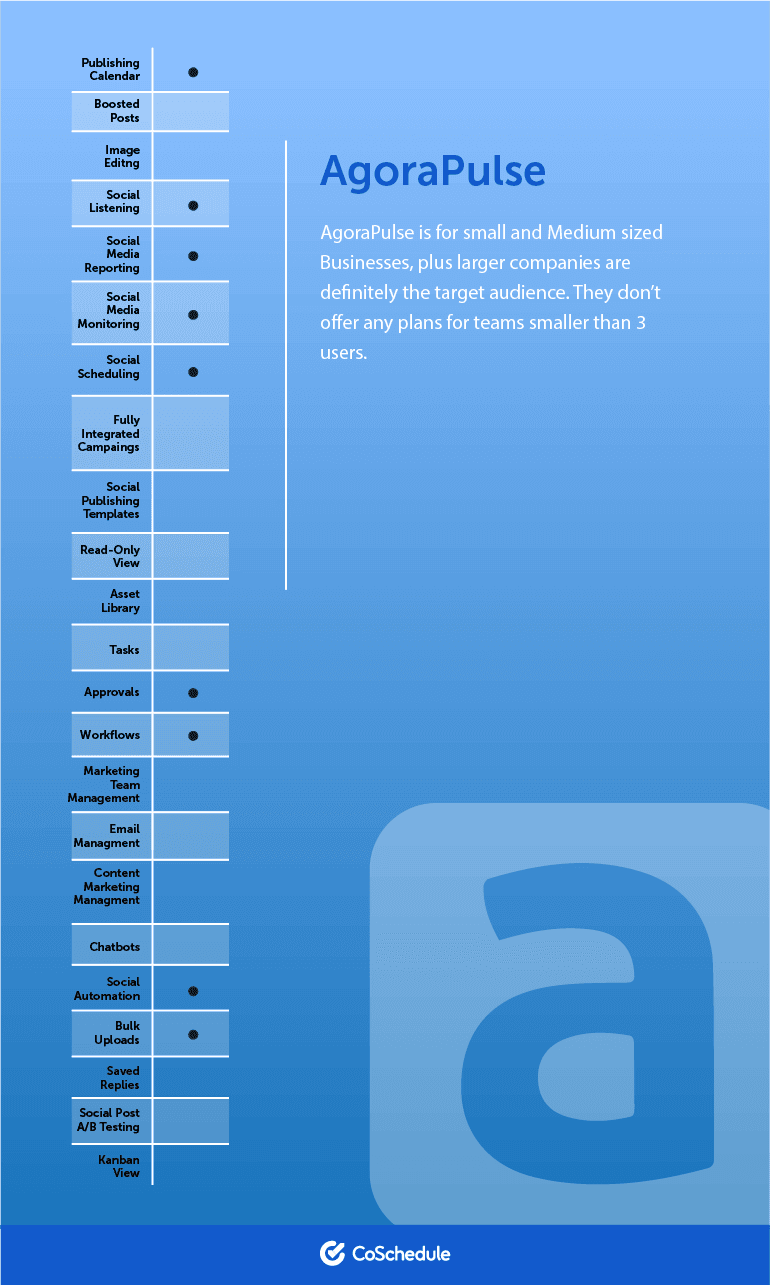 MeetEdgar
At first blush MeetEdgar has a pretty basic offering to manage your social media.
But… the company does offer a pretty cool feature that is similar to ReQueue from CoSchedule. MeetEdgar will auto-post your evergreen content on your behalf so your social channels will always be active. It even claims to find quote worthy text in articles and turn it into social posts for you.
If you don't really care about social monitoring, approvals, workflows, or other collaboration features and just want an affordable social scheduling tool, MeetEdgar might be the one for you.
Who's MeetEdgar For?
Anyone with a limited budget that needs to save time scheduling social posts.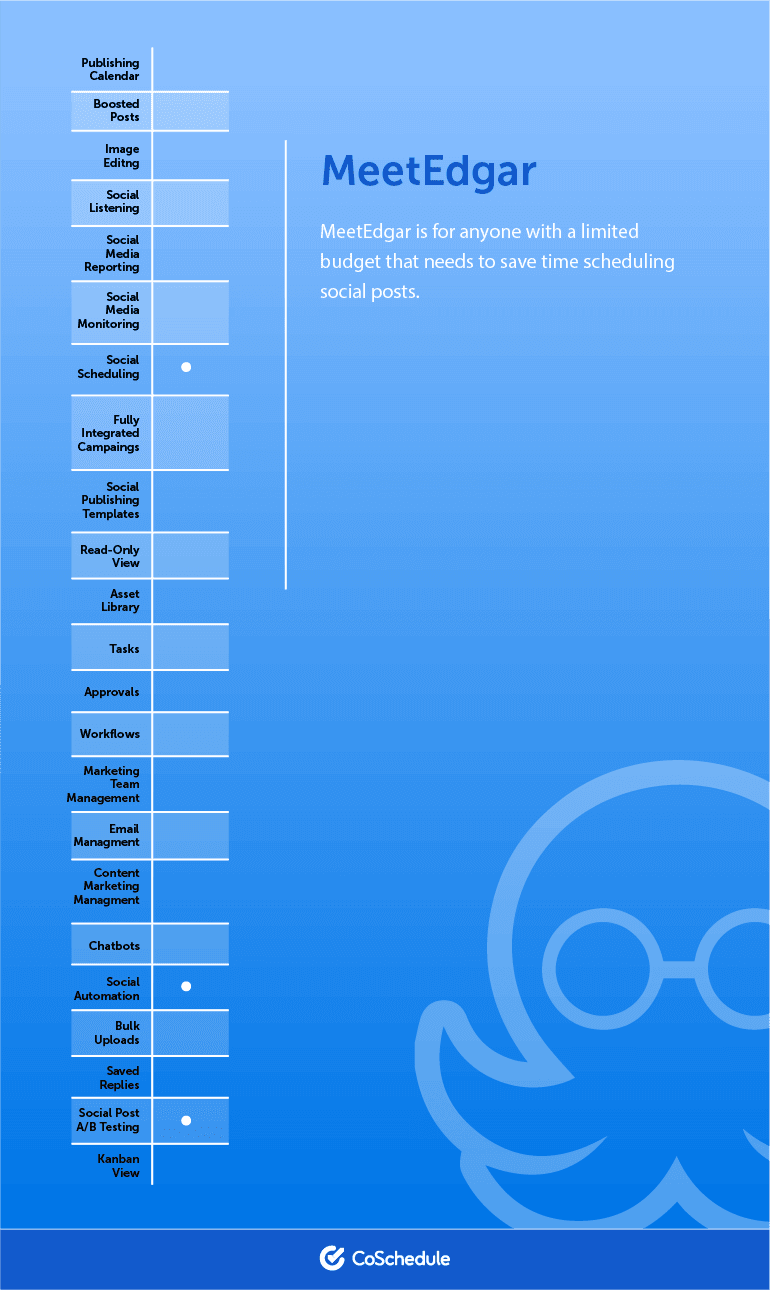 Statusbrew
Statusbrew is a social media marketing and management tool that has a lot of similar features to other's on our list including social media monitoring, reporting and publishing.
One of the stand out features of Statusbrew is the social media advertising features. You can boost posts directly in the tool, but you can also set up your Facebook ad campaigns with features like the ability to set campaign objectives, target audience and budget directly in the platform.
Who's Statusbrew For?
If you're running a lot of social media ads and want to do them along side your social publishing schedule, Statusbrew has a great offering. A lot of competitors on this list have the ability to boost posts, but few have a comprehensive ad management offering.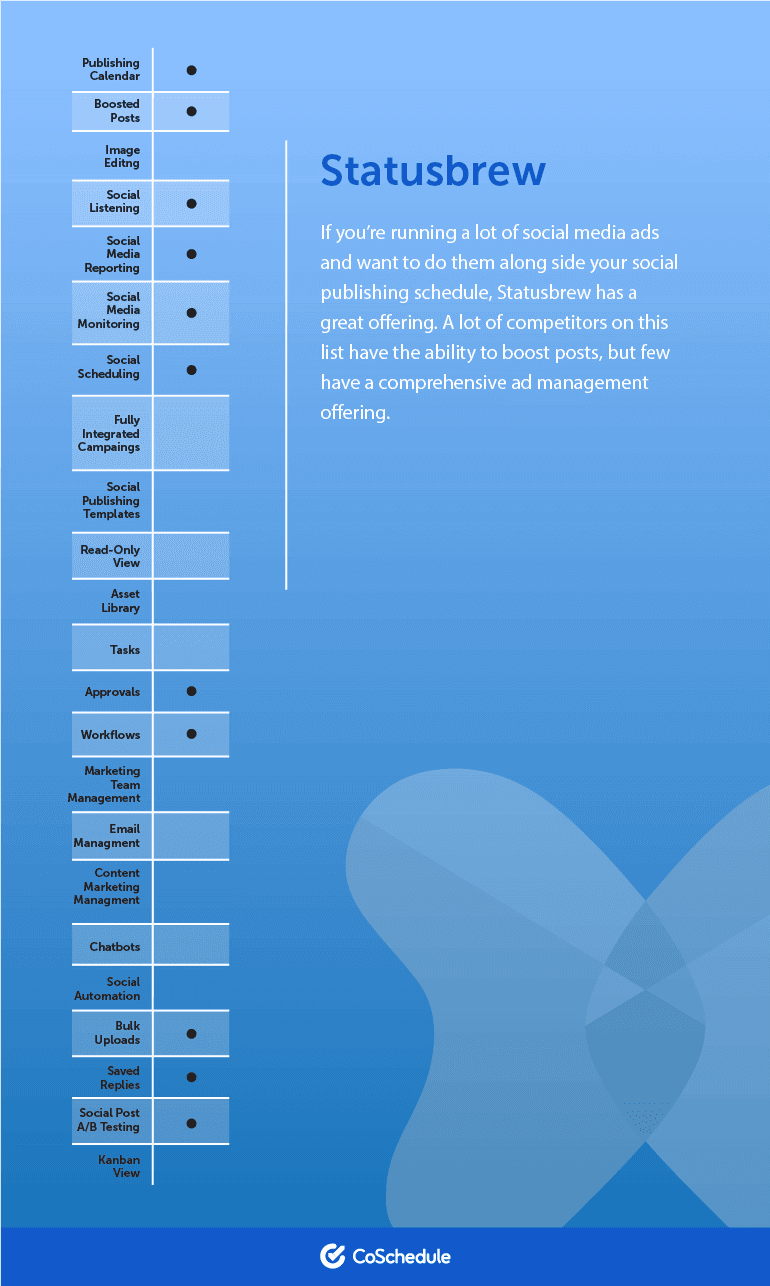 SocialPilot
Probably the biggest differentiator of Social Pilot is it's content curations abilities. SocialPilot's content curation platform lets you sift through  a list of content from other sites that you can either create a post about, or use it to drive your own content strategy.
This is sort of similar to the type of features you'd get with a subscription to Buzzsumo or Quuu.
It also allows you to adjust the font and colors of the tool itself to fit the branding of your organization. This might be important to you if you are collaborating with clients in the platform.
Who's SocialPilot For?
According the the pricing page, it's most popular plan is the small team. However, the company has quite a few features tailored to the needs of agencies so I reckon that agencies are a target market for the company.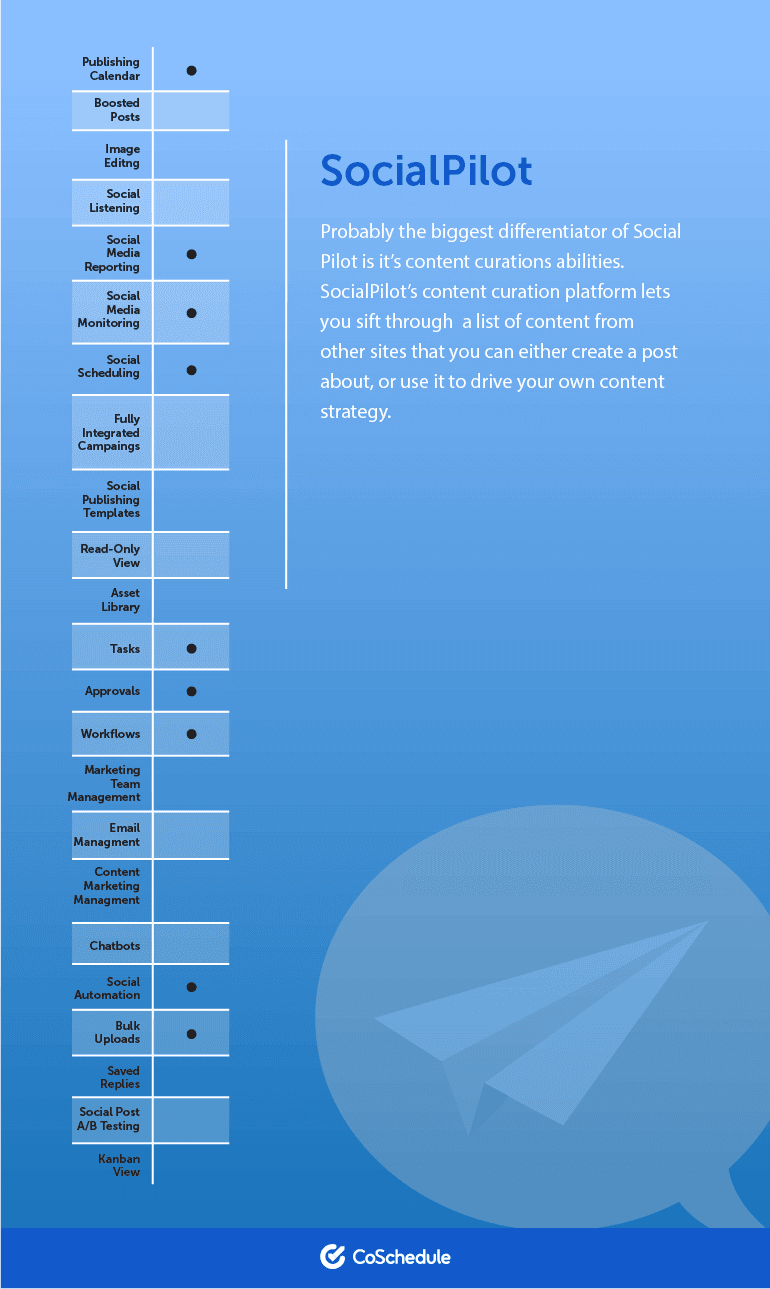 Zoho Social
Zoho is an Indian company that offers a wide range of products to manage your digital activities. It's social offering has a lot of functions like social automation, bulk upload, scheduling, monitoring and reporting. The sheer volume of products is kind of astounding… they have a replacement for just about every tool in your toolstack. From invoicing to landing page optimization to website analytics and HR tracking.
Who's Zoho Social For?
Well just about anyone and everyone, honestly. HR folks, marketers, product managers, social strategists, finance staff, designers… you name it, there's a Zoho tool for ya.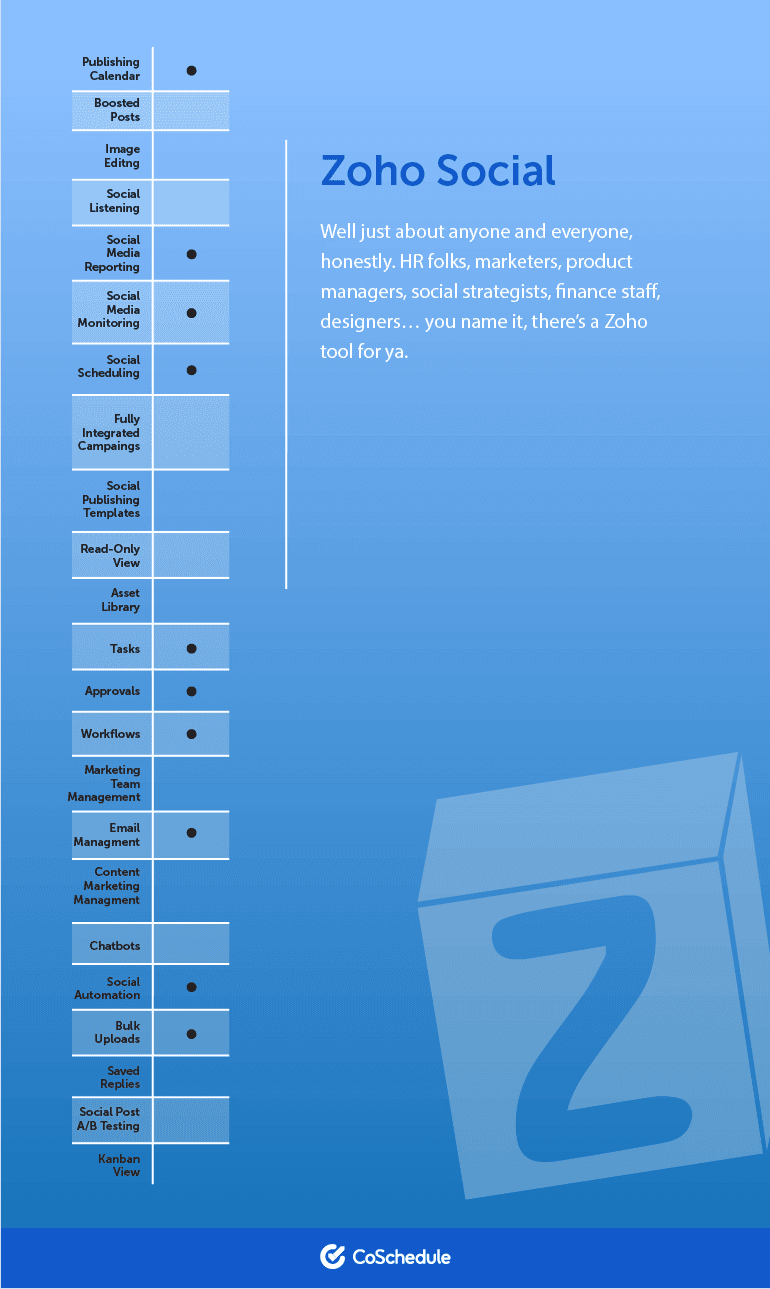 eClincher
eClincher has similar types of features to that of Hootsuite, however, eClincher's listening and monitoring capabilities seem to be included on all packages. Where as Hootsuite offers this as an add on feature for purchase.
eClincher also has the ability to identify influencers on social media using keyword search, which not many other competitors offer.
Who's eClincher For?
It seems like medium-sized businesses are a good fit for eClincher. They have some good features like social listening that aren't included standard with other options like Hootsuite or Buffer.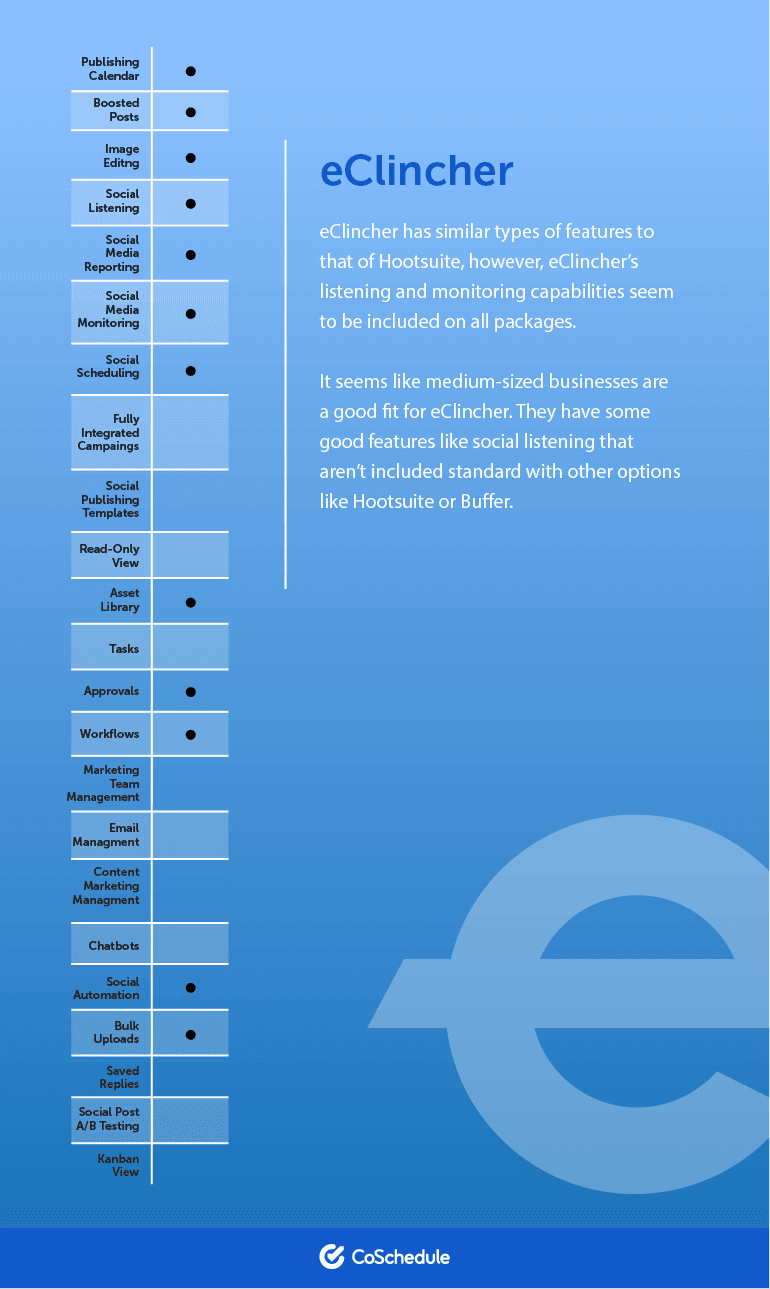 Falcon.io
Falcon.io is a pretty popular social media management tool that has some good features like boosted post capabilities, social listening and approval workflows.
One thing that I wasn't quite sure about when analyzing their offering was the "content marketing planning" feature. I couldn't quite figure out what exactly this entailed and if it included all aspects of content marketing like planning and launching blog posts, whitepapers, podcasts, email journeys, etc.
Who's Falcon.io For?
From what I can gather from their website, it seems like a pretty enterprise driven solution. Most enterprise solutions don't disclose their pricing, which was the case with Falcon.io.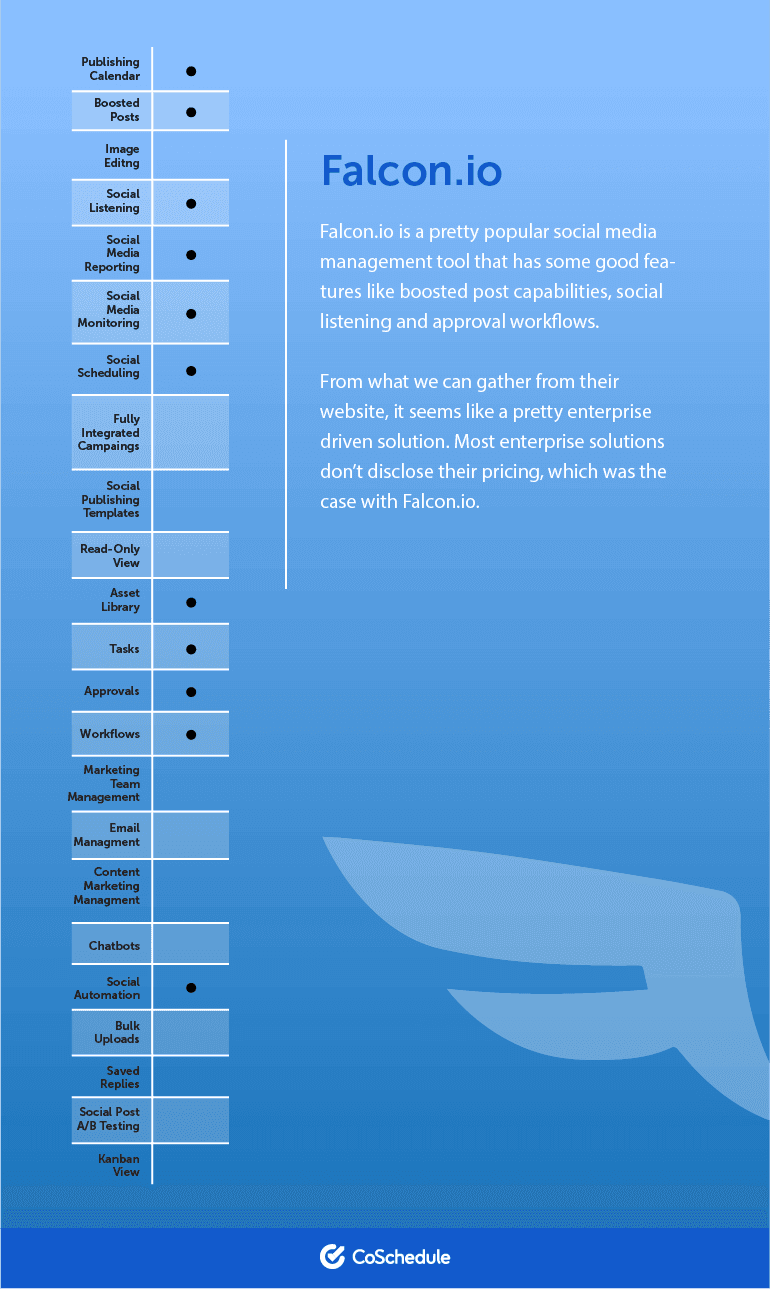 Your Head Spinning with Social Media Marketing Solutions Yet?
Yes, one thing is clear…
There are a LOT of options available. To find the best social media marketing tool for you, figure out what your "must-have" features are.
For example, do you need to identify influencers, monitor keywords, easily upload a bunch of messages from a spreadsheet, etc? Then widdle down with ones have the features you need and start a trial or call for a demo.
I'd recommend doing a demo on any tools that are interesting to you. Demos really help you make the most out of the limited time you have in your trial.
If CoSchedule is on your shortlist, let us walk you through a demo and how we can transform your marketing team.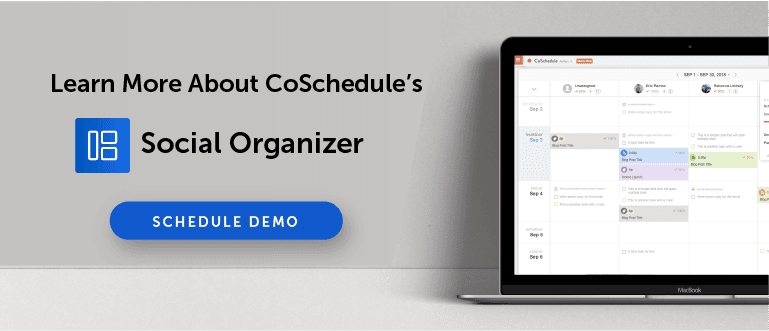 August 12, 2019