2020 Social Media Content Calendar: How to Organize Your Posts the Easy Way 71
Headline Analyzer
The blog post headline analyzer will score your overall headline quality and rate its ability to result in social shares, increased traffic, and SEO value.
Test every headline before you publish. Try the Headline Analyzer »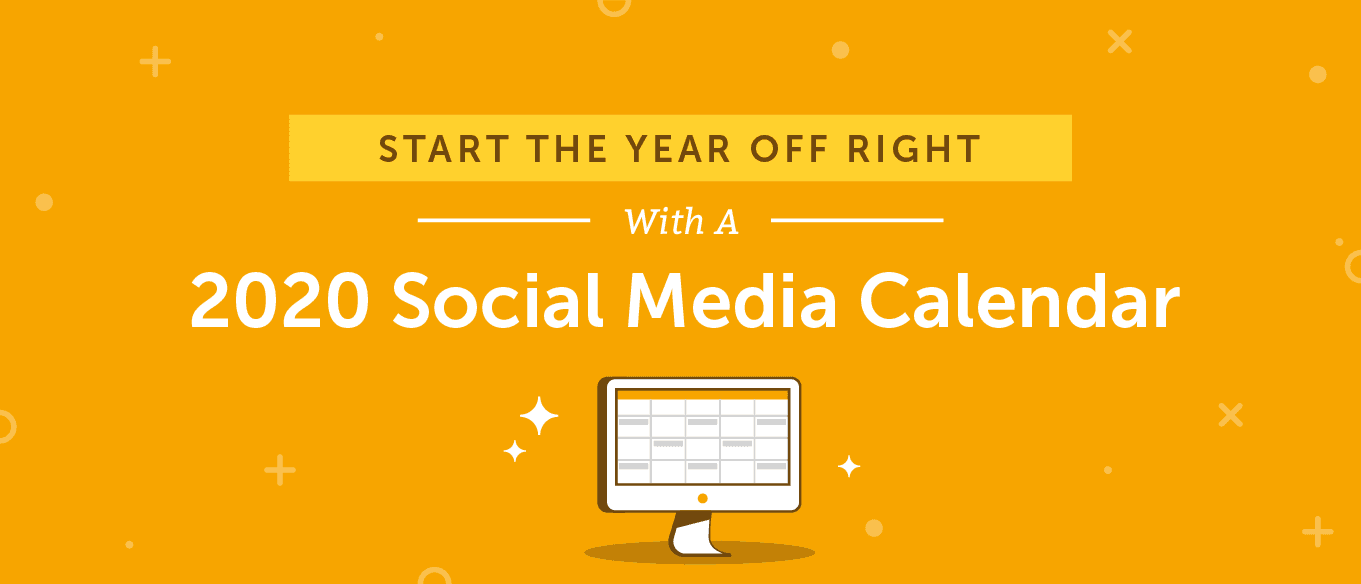 There's no time like the new year to get your marketing organized.
But, there's one problem: it's so much easier said than done.
At least it feels that way, right?
Fortunately, our 2020 social media content calendar template is here to make things much easier. Here are a few benefits you're about to enjoy:
Stop waiting until it's too late to decide what to post. Instead of wasting time wondering what to post, plan ahead and focus your attention on other important tasks.
Give your team full visibility into your social media strategy. When everyone can see what is getting posted,
Get more work done.Plan content strategically, set publish dates and times, and be more successful.
And in this blog post, we'll walk you through how to:
Determine what you should post. Before you can use a calendar, you need to know what will go on it.
Establish a publishing schedule. Determine when and how often you'll post to each network.
Set up each post on your calendar. Dig into the nuts of bolts of organizing an effective social media calendar.
Plus, you'll see how CoSchedule's Social Organizer can help you manage and automate social media marketing more effectively.
Download Your 2020 Social Media Content Calendar
Keep all your social media marketing on track! With this easy-to-use calendar spreadsheet template, your entire social team can schedule posts, monitor deadlines, optimize your posting schedule, and more. Plus, enjoy these bonus templates:
Campaign Template: Plan every campaign from start to finish with this template.
Strategy Template: Set goals, select channels, and more.
Content Strategy Template: Figure out which types of content you'll create to achieve your goals.
Campaign Proposal Template: If you're a consultant or work at an agency, use this template to land more social media clients.
How Often to Post On Social Media Infographic: Use this visual reference guide to optimize your posting schedule and frequency.
Get the full bundle below, and then read on to learn how to use your new calendar.
What is a Social Media Calendar?
A social media calendar is just what it sounds like: a calendar for scheduling social content. There are a few different types that marketers might use:
Paper Calendars: These might include desktop planners, notebooks, or hard copy calendars kept at your desk.
Excel Spreadsheets: This is a low-cost option that many marketers start off with.
Apps: Robust tools like CoSchedule's Social Organizer fall into this category. They offer more powerful automation and scheduling features than static calendars.
Why Do You Need A Social Media Content Calendar?
In short, working in social media marketing without one forces teams to operate in the dark. That inevitably leads to confusion, frustration, and a lack of focus. That's no way to effectively create consistent content that makes connections with audiences and helps build businesses.
Here are a few more specific benefits:
Social calendars give your team an overview of what content needs to be published, what's coming next, and the strategy behind why content is being published at a certain date and time.
They also help you keep up a consistent posting schedule because you never have to scramble and figure out what to post next.
When your marketing team has several different things going on at one time, knowing your social posts are lined up and ready to go frees up time and mental energy for other tasks.
TL;DR: Save your sanity and use a calendar.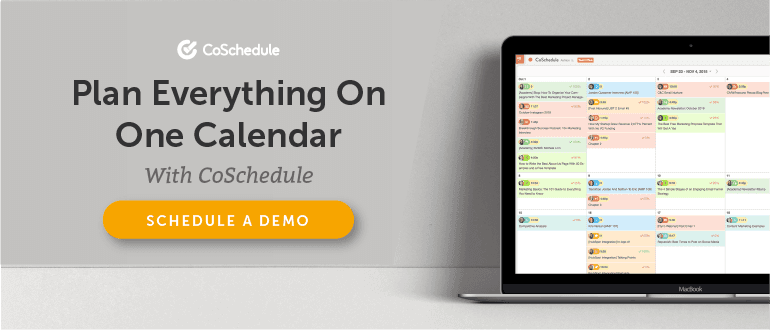 Start By Conducting a Simple Social Media Audit
Before you begin to fill out the social media calendar template you just downloaded, you need to determine what channels and content types you're going to be using.
First, list out the social media channels that your organization is currently active on.
Second, evaluate the effectiveness of those channels.
There are three things you need to consider when evaluating your channels:
Where is your audience? If your target audience is more active on one platform over another, that active platform is where you need to be focusing your efforts.
What platform has experienced the most growth in the last year? If you see tremendous growth on a platform, look through your analytics to find out why. Is it a certain content type that's attracting audience attention? Or, maybe a specific campaign boosted your growth?
Where is your traffic and engagement coming from? Is there an individual social channel that seems to be engaging your audience and driving more traffic to your website? What is your team doing on that channel differently than others that are potentially causing that difference?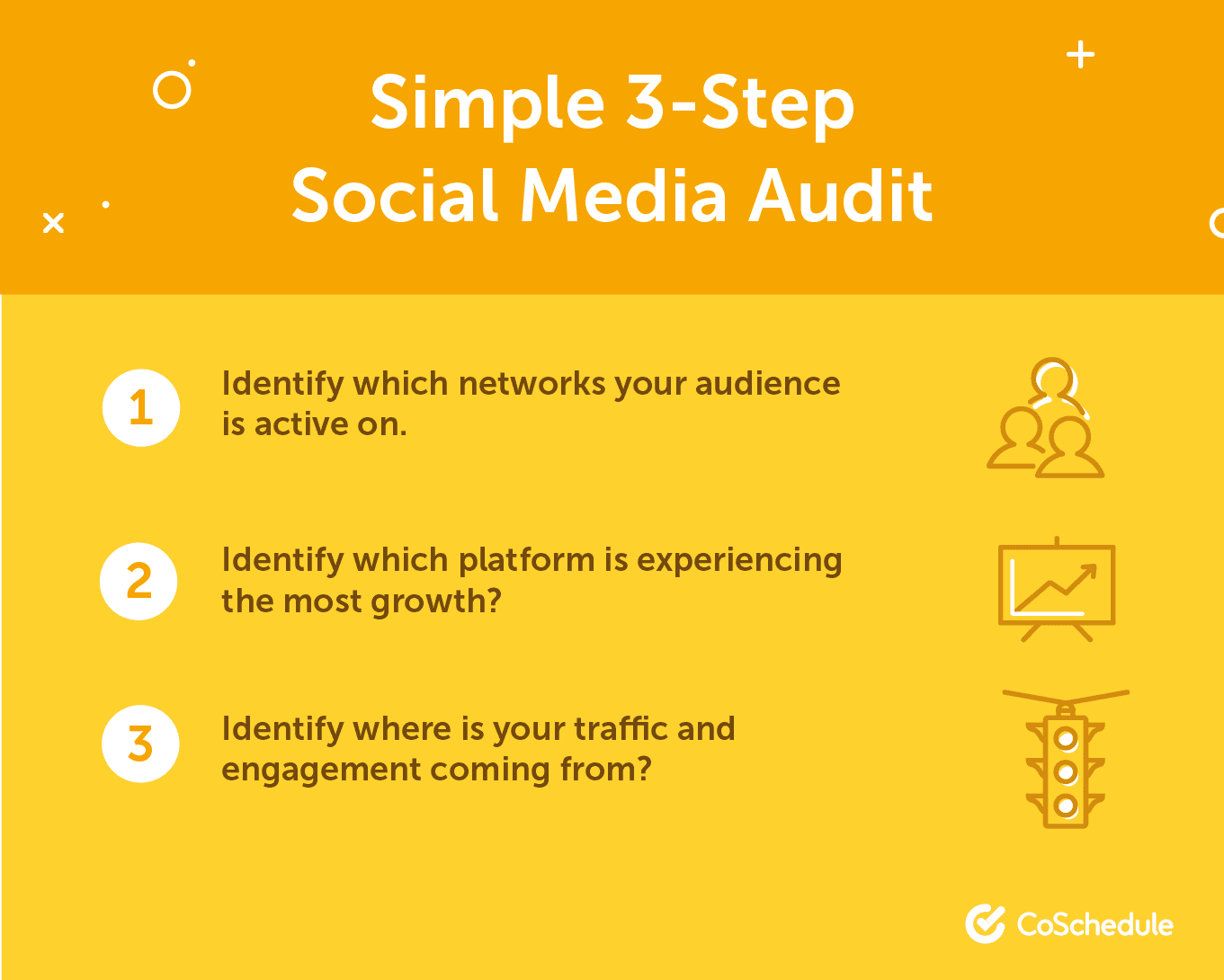 At the end of the day, your team needs to follow the lead of your audience.
Figure Out Which Types of Social Media Content You'll Create
The last part of your social media audit should include deciding which types of posts you'll be sharing across each of your channels.
There are four main different post types that your team can publish on social:
Images. This could include single images or gallery posts.
Videos. This could include live video streaming (ex: Facebook Live) or natively uploaded video content.
Text. Sometimes catchy copy is all you need.
Links. Links to external content (owned or curated) would fall under this category.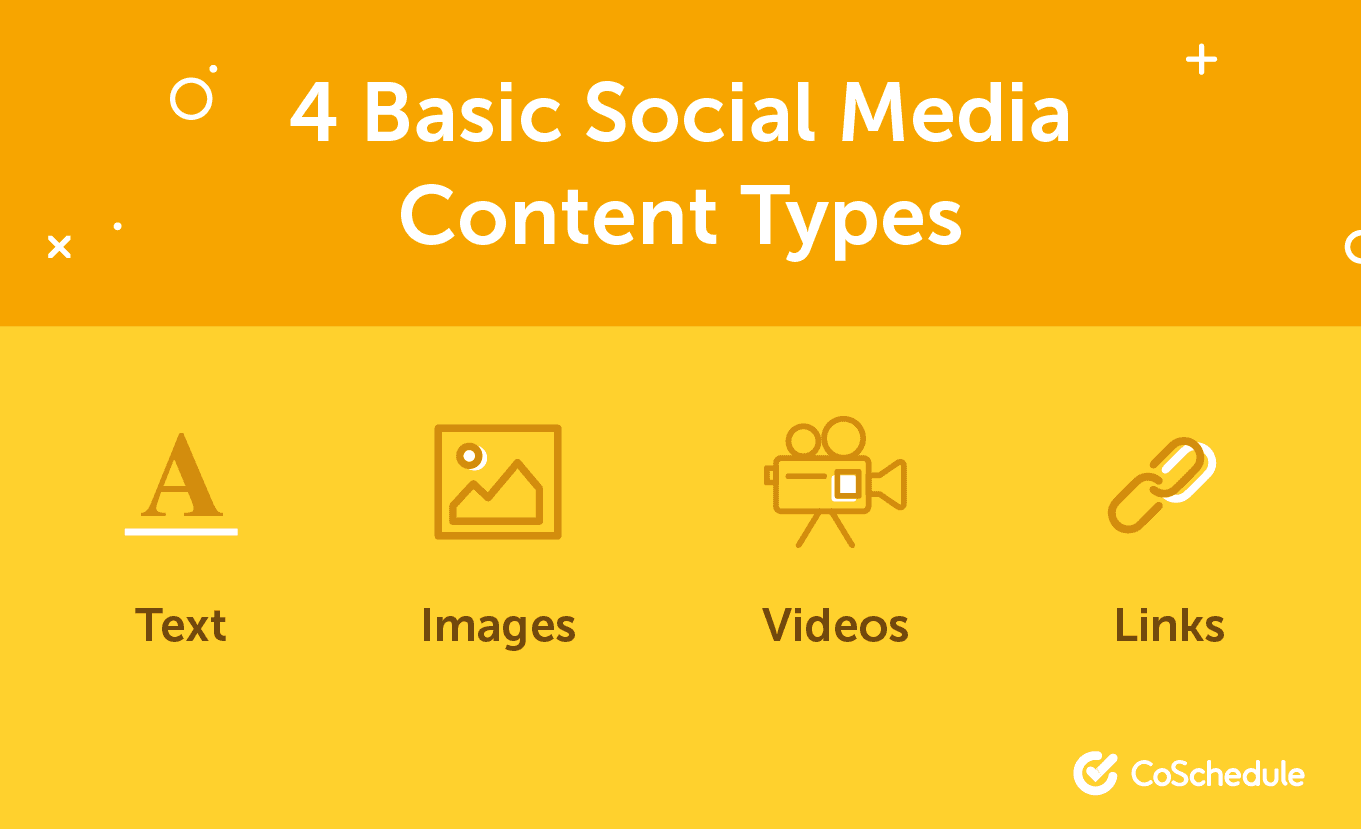 Depending on your team's capabilities and which networks you're on, some of these content types might be more important to you than others. If you're already posting consistently across different social channels, use in-app analytics for each channel to look for spikes in engagement and traffic. What types of post content are causing those spikes?
On Facebook, that data can be found by going to > Insights > Posts: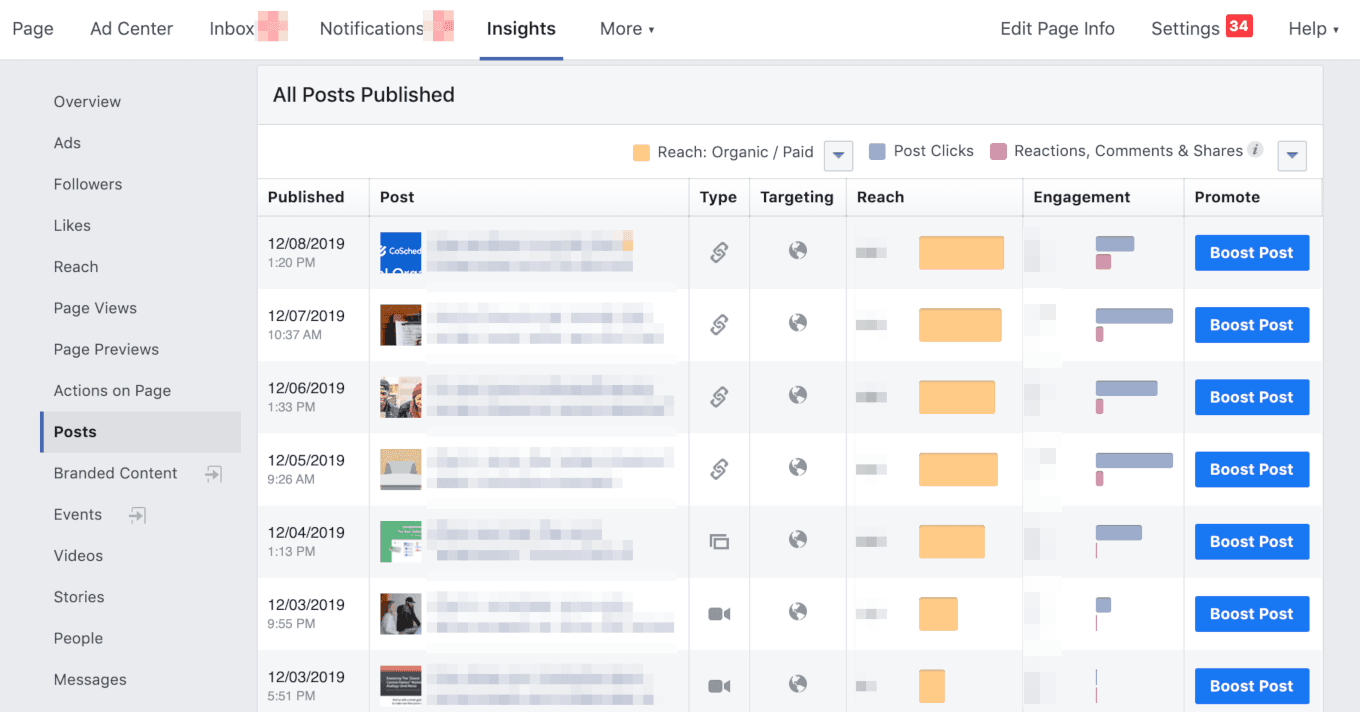 On Twitter, go to your profile picture, click the drop-down menu and select Analytics > Tweets: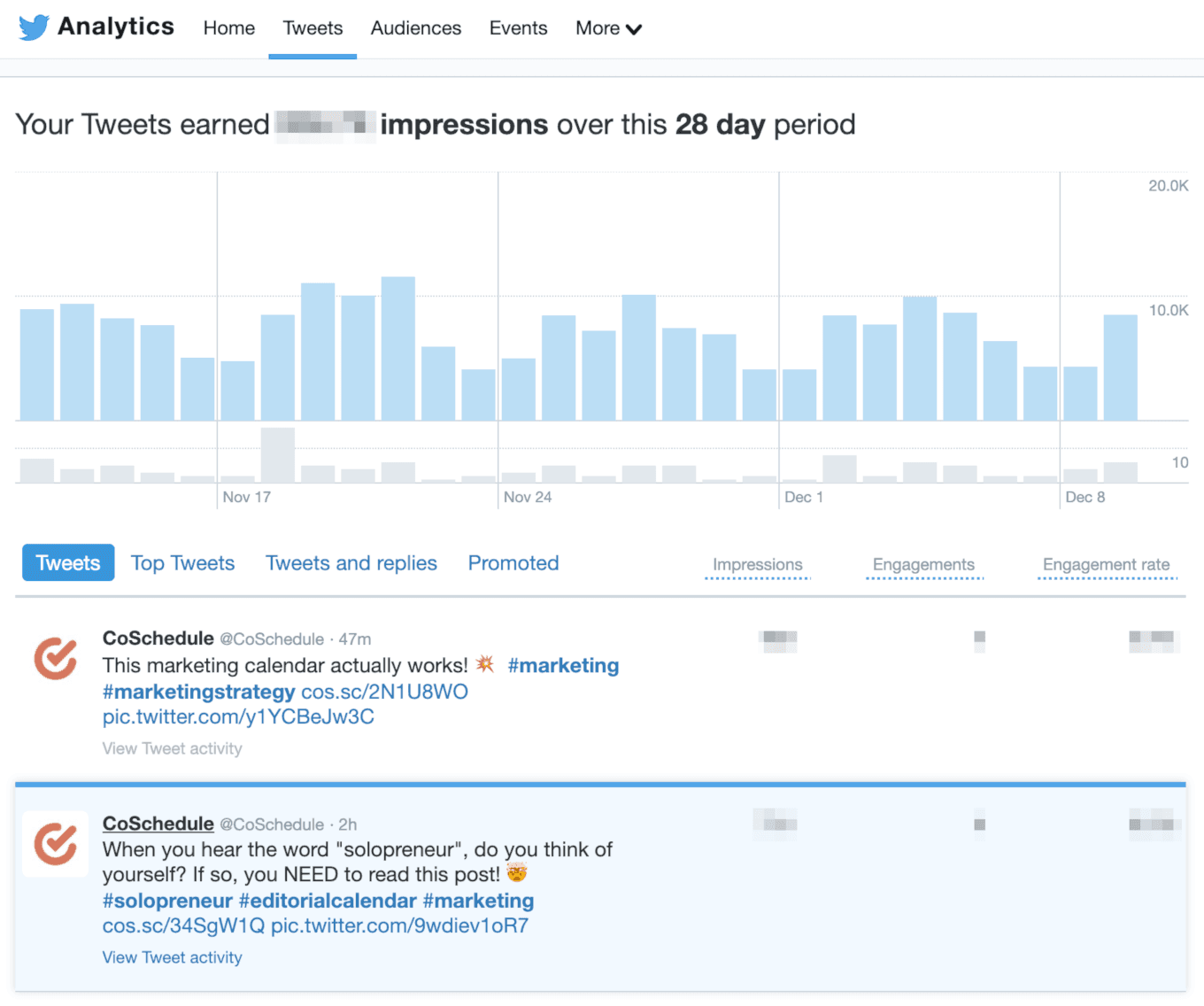 On Instagram, go to your business profile, select the little bar graph in the top right-hand corner and choose Posts: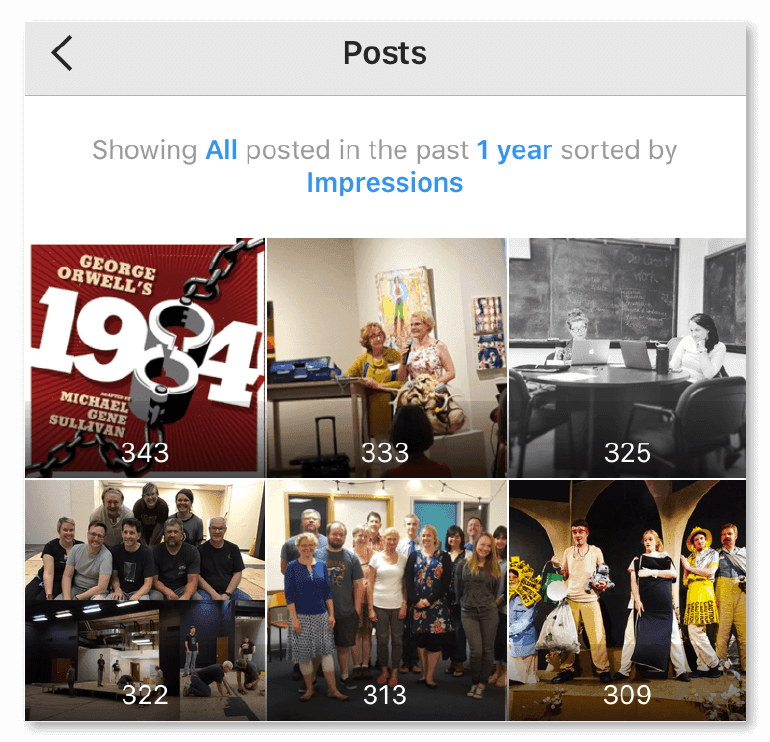 For LinkedIn go to Manage Page > Analytics > Updates:

Finally, for Pinterest go to Analytics > Profile > Top Pin Impressions: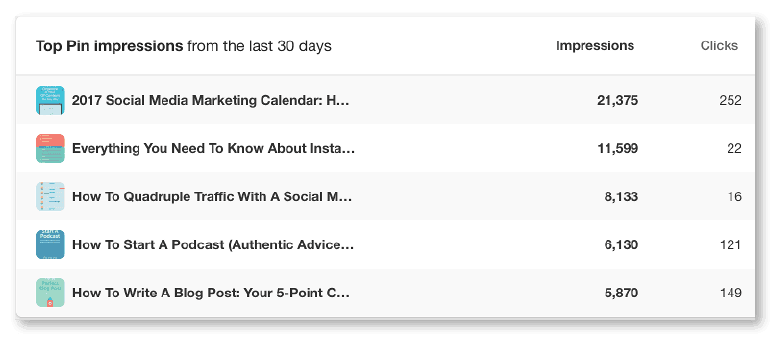 If you want an easy way to access your social message analytics, use CoSchedule's Social Engagement Report. To access the social reports select Analytics in the sidebar of CoSchedule: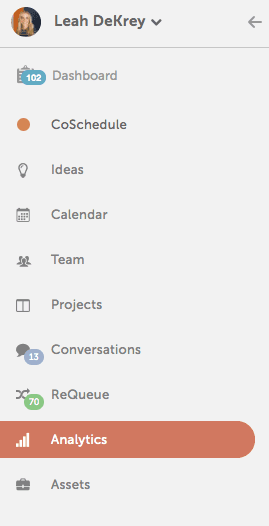 There you'll find a range of social media reports like individualized channel reports, a social engagement report, a social campaign report and a top message report.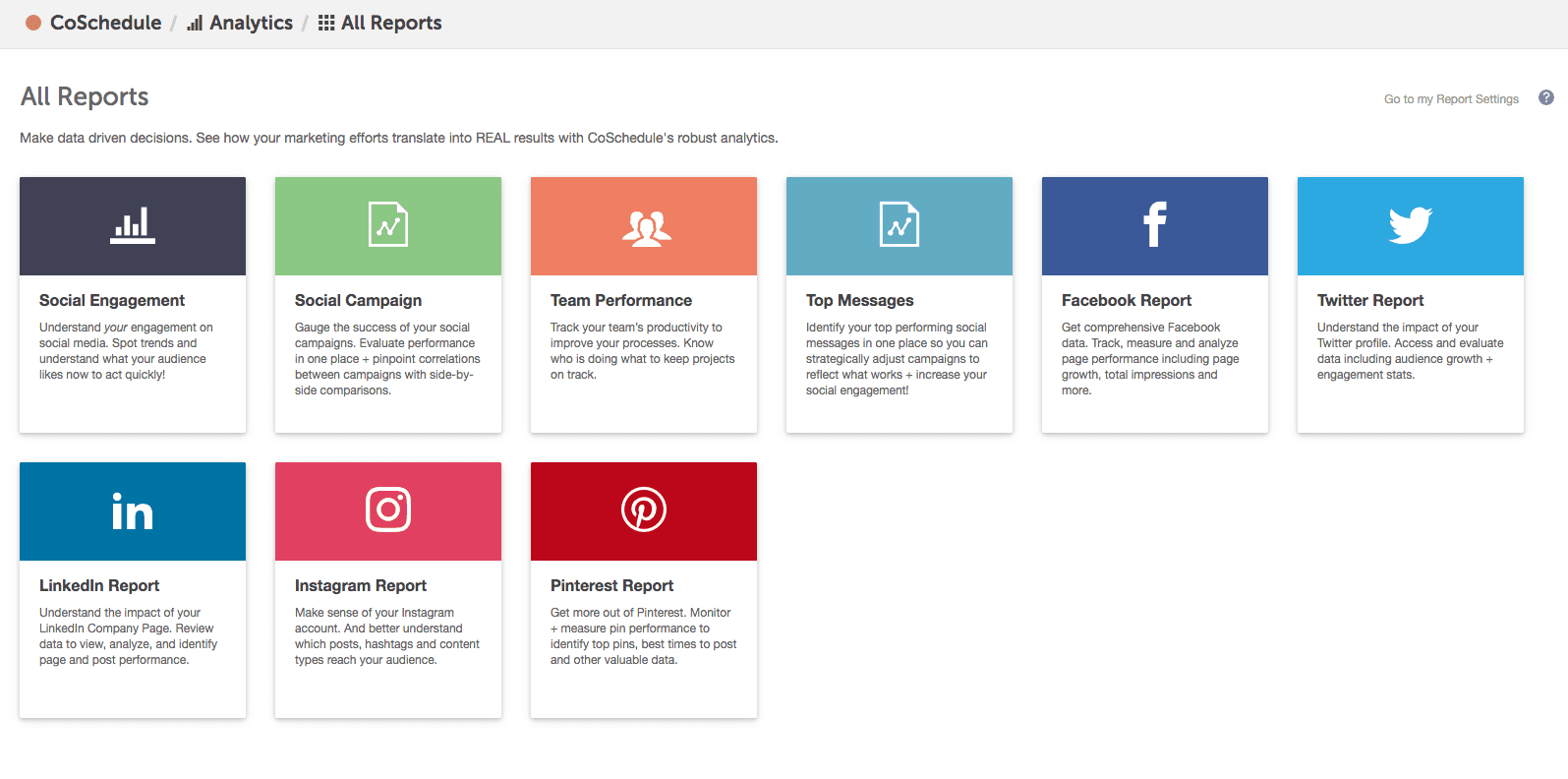 How To Use Your New Social Media Calendar Template
Next, let's look at how to use your new social media calendar. This will entail setting up the calendar and developing simple workflows to keep it updated and maintained.
Start By Adding Post Content
The calendar is broken out with networks listed on the left. Then, there are fields for Content, Image Link, and Time for each post. Start by choosing a day and network for your post. Then, write your post copy in a Content field:

Need tips on writing awesome social posts? Check out this infographic for optimization best practices on each network:
If you want to really pack a punch with your social media messages optimize them for each network to encourage your audience to interact with them by using our Social Message Optimizer. Enter your post copy into the tool: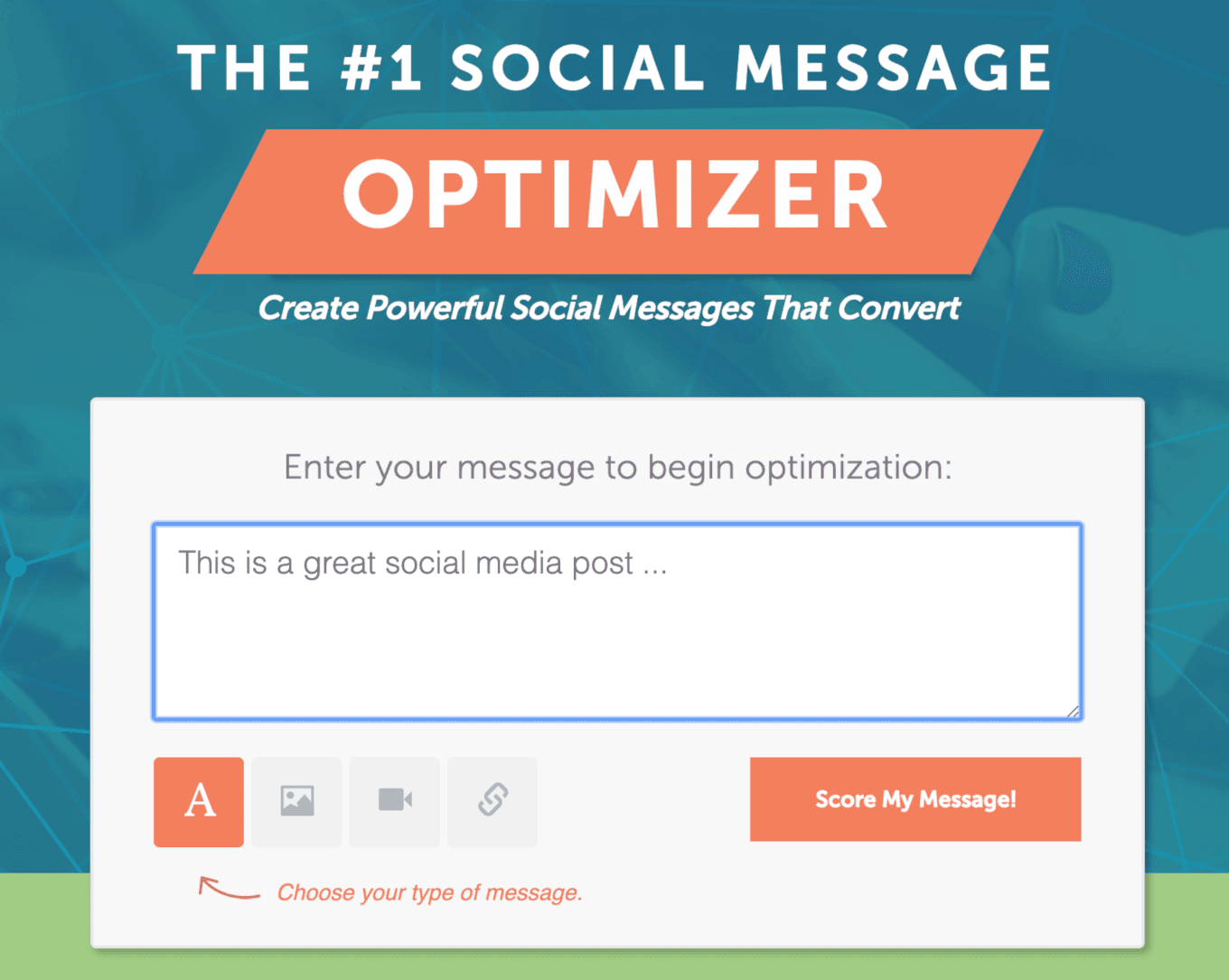 Hit Score My Message. A score will generate for each of social channel. You can click on each one and edit the message individually to bring up your score:

If you continue scrolling down on each channel you'll see a brief overview of what is and isn't working well for your message on a channel: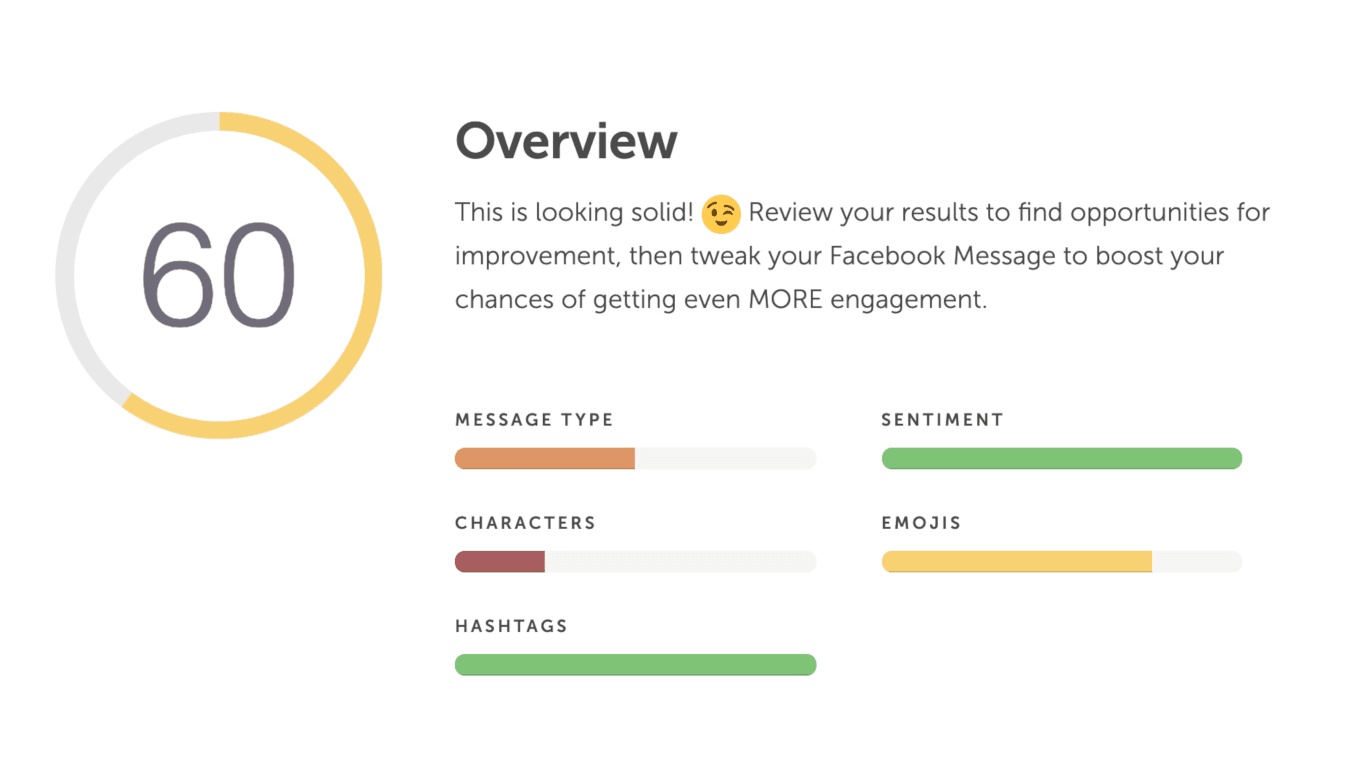 As you continue to scroll down you'll see a breakdown of what you can fix to help make your content even better: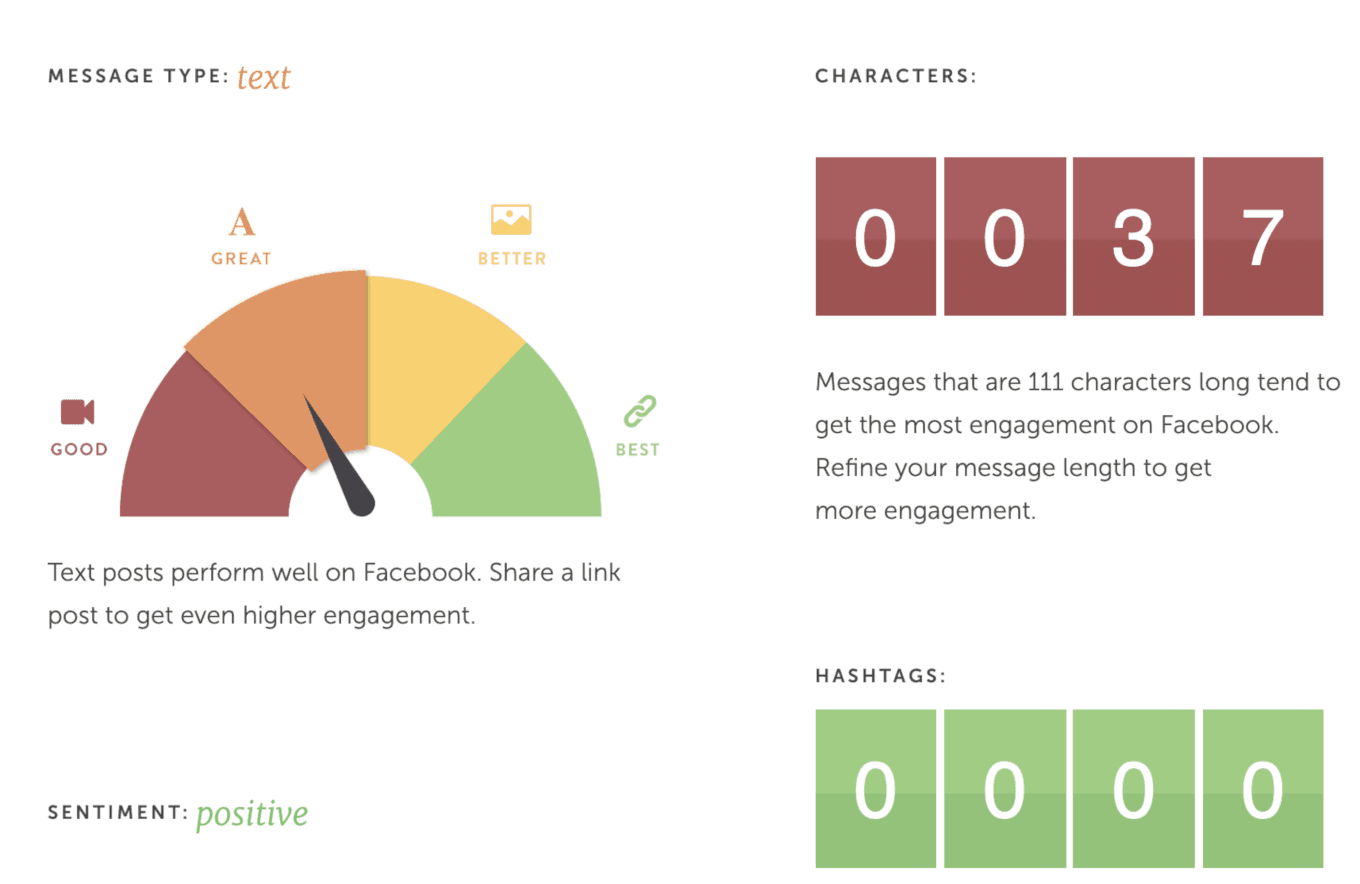 Once you have a message where you want it to be you can copy it into your calendar.
Recommended Reading:
Add Visual Content
The next step is to include any visual content and links each post will need. And the easiest way to do this is to upload your videos and images into a cloud storage system (like Google Drive or Dropbox) and copy and paste the link into your calendar, so your social team can easily access it.
For this example, we'll be using Google Drive. Go to your drive and create a folder. Title it 2020 Social Media Images (or something appropriate for your business or campaign):

Once you're in the folder go to the left-hand side menu and click +New and +File Upload: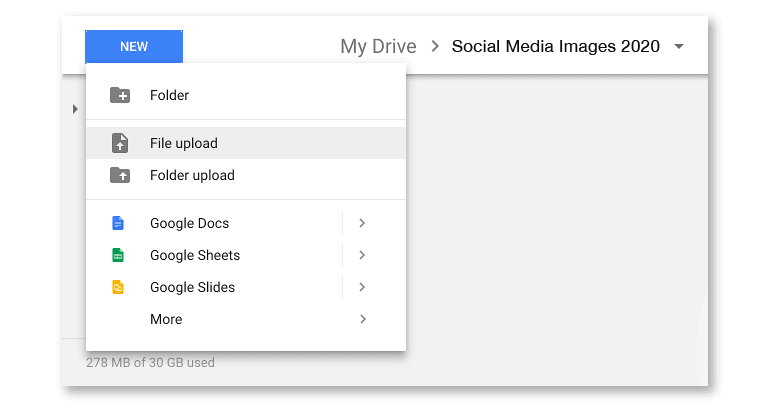 Upload the images or videos that need to go with your post and label the photo or video with the date that it's supposed to be published:

Select the image and click share in the upper right-hand corner:

In the following screen click Get Shareable Link: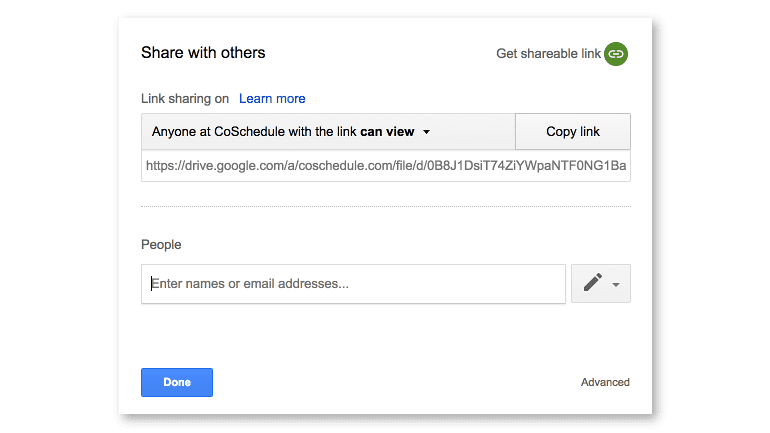 Copy the link into your calendar. The last step in filling out your calendar is including a time that you want your post to publish. To maximize the number of people that see your posts, you'll need to send them at the best time. Once you've determined your time enter it into your calendar:

If you're using the CoSchedule Social Organizer, creating everything from single social posts to entire campaigns is even easier. To schedule your messages, click the + symbol in your calendar. Then, select either a single message or an entire campaign: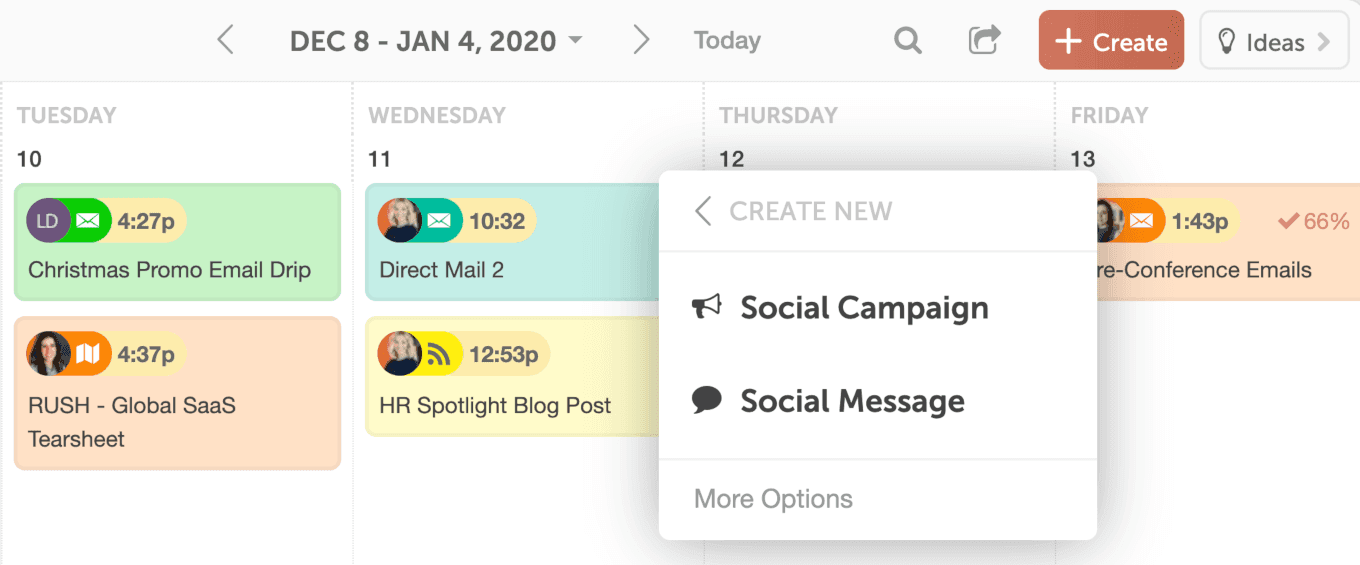 Choose your channel and craft your copy: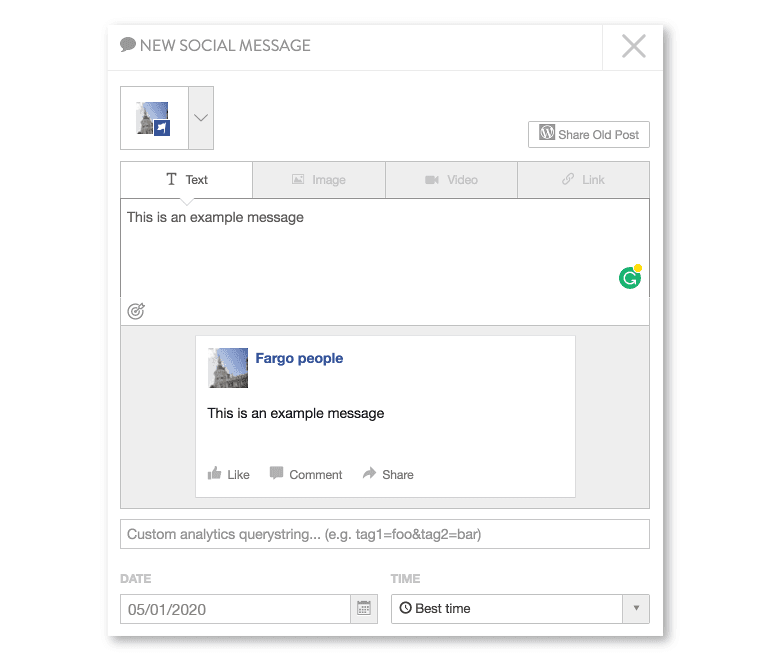 Add images, videos, or links by navigating through menu tabs in your post:
Once you have your content in place schedule your posts a certain time or let CoSchedule publish them at the best time by selecting Best Time from the drop-down menu: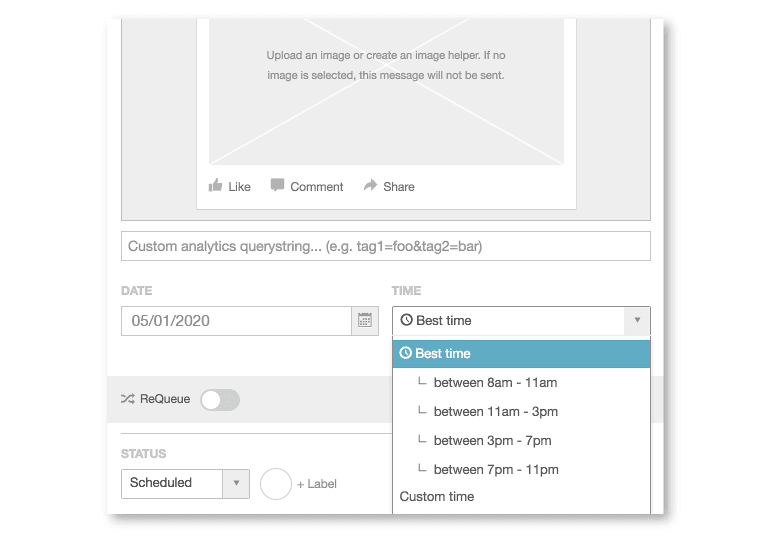 Recommended Reading:
Plan Your Social Media Marketing Themes For The Entire Year
Coming up with a year's worth of content can seem a bit intimidating, but there are recurring events that you can add to your calendar to help fill it.
Some popular events to add to your calendar could be:
Holidays

: Use National Day Calendar to find ones you might not have even heard about.

Events

: These can be company, local, or national events.
Sales: If you have recurring sales like a Black Friday or Cyber Monday sale you can use them to fill your social calendar.

Product or feature launches

: If your team is launching new products or a new feature that accompanies your project build that momentum with a social media campaign.

Themes

: Create your social content around different topics that relate to your organization. This saves your team from posting about the same things over and over again.
That can add up to a lot of things to keep track of, fast!
There is a trick to keep track of your content: color-coding. In your template, you'll notice a color key at the end of every month. Simply color-code posts that correspond with different campaigns, events, or promotions you'll have planned throughout the year: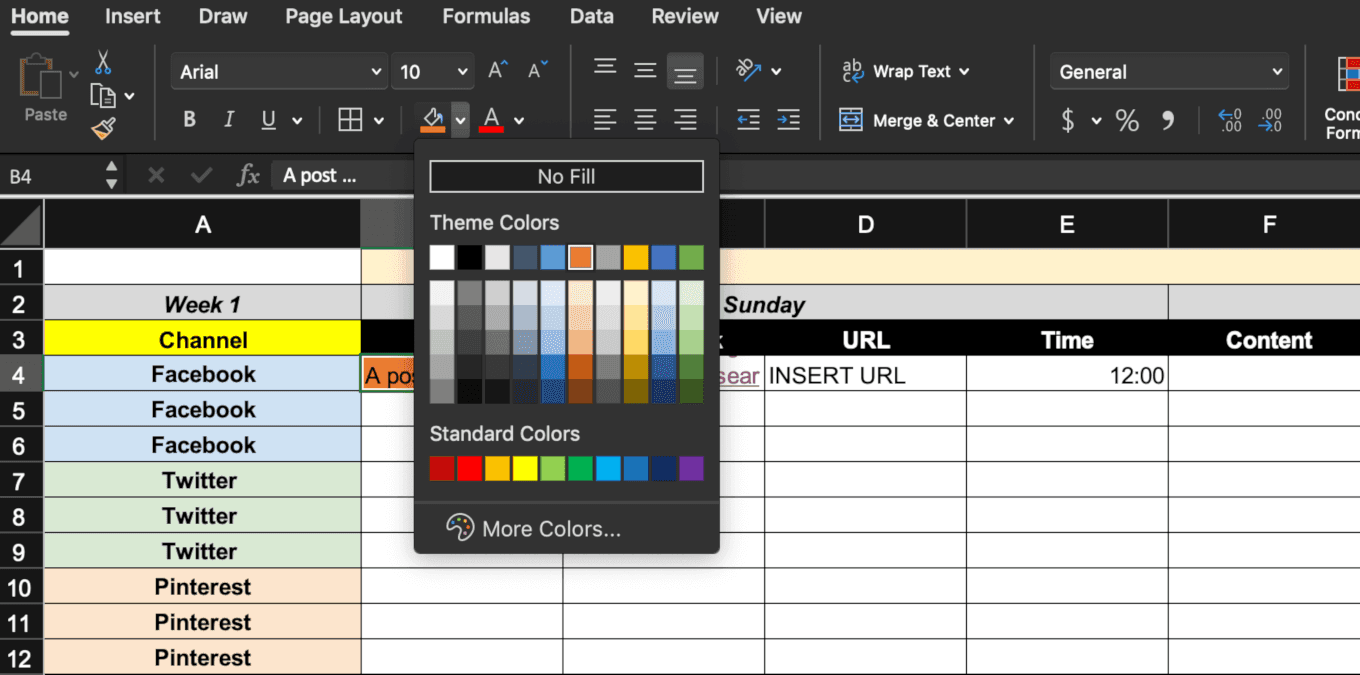 Optimizing Your Posting Schedule
Your social media posts will get little traction unless you optimize the times they post to the network.
"What if I don't have a posting schedule yet?"
That's okay, we'll help you plan one. At CoSchedule, we went through 10 different studies and came up with this basic social sharing schedule you can use as a starting point: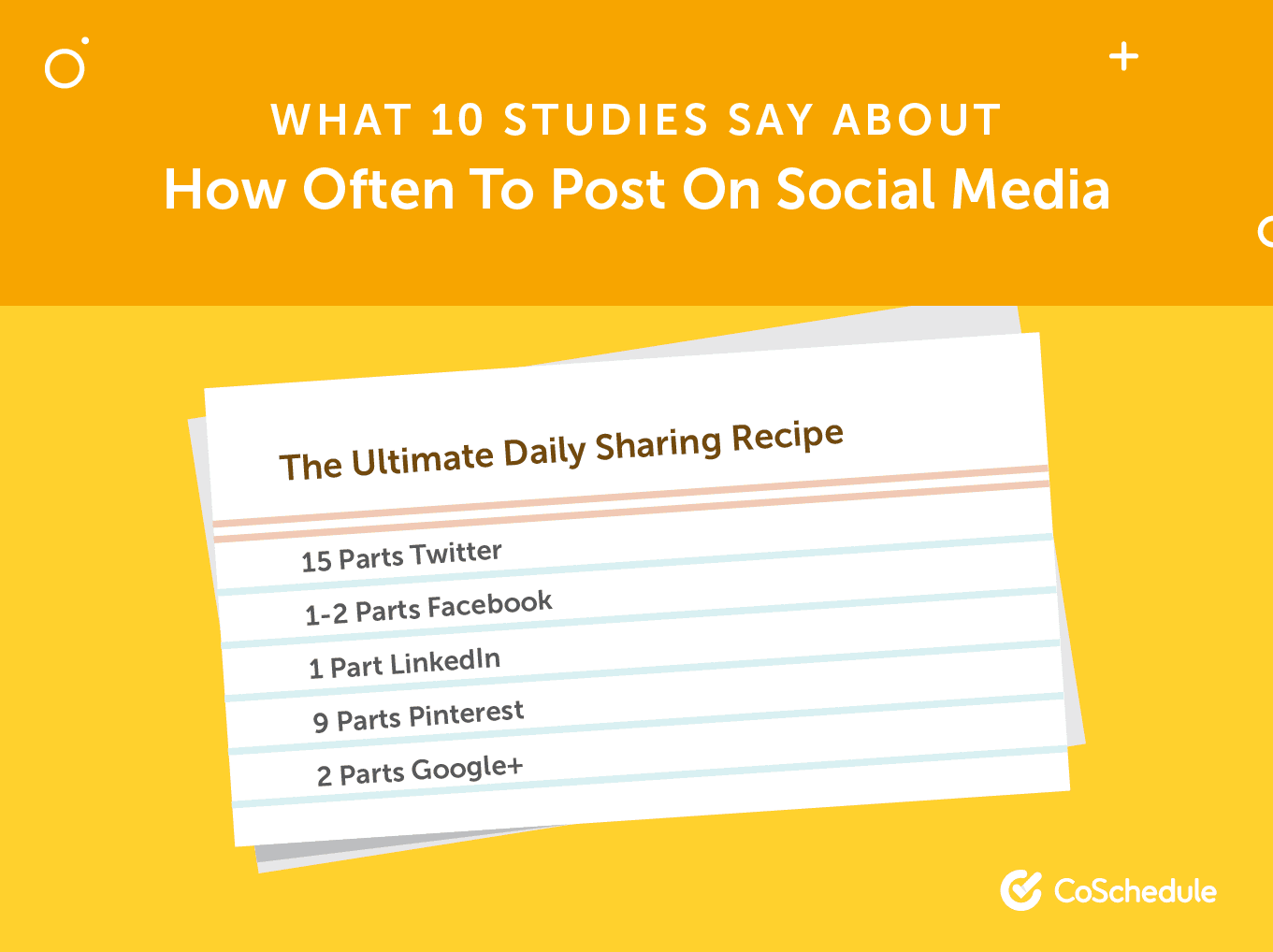 Now maybe you team can't post that frequently. Start with publishing at a frequency your team can handle and work your way up to a more robust schedule.
Once your team gets into a rhythm you'll be able to publish more content faster and faster. If you really wanna step up your posting game, let CoSchedule help you out with Social Templates.
Social Templates are part of an automation feature that lets your team create different publishing schedules and attach them to campaigns, content and more.
To use social templates, go to your CoSchedule calendar and create a social campaign: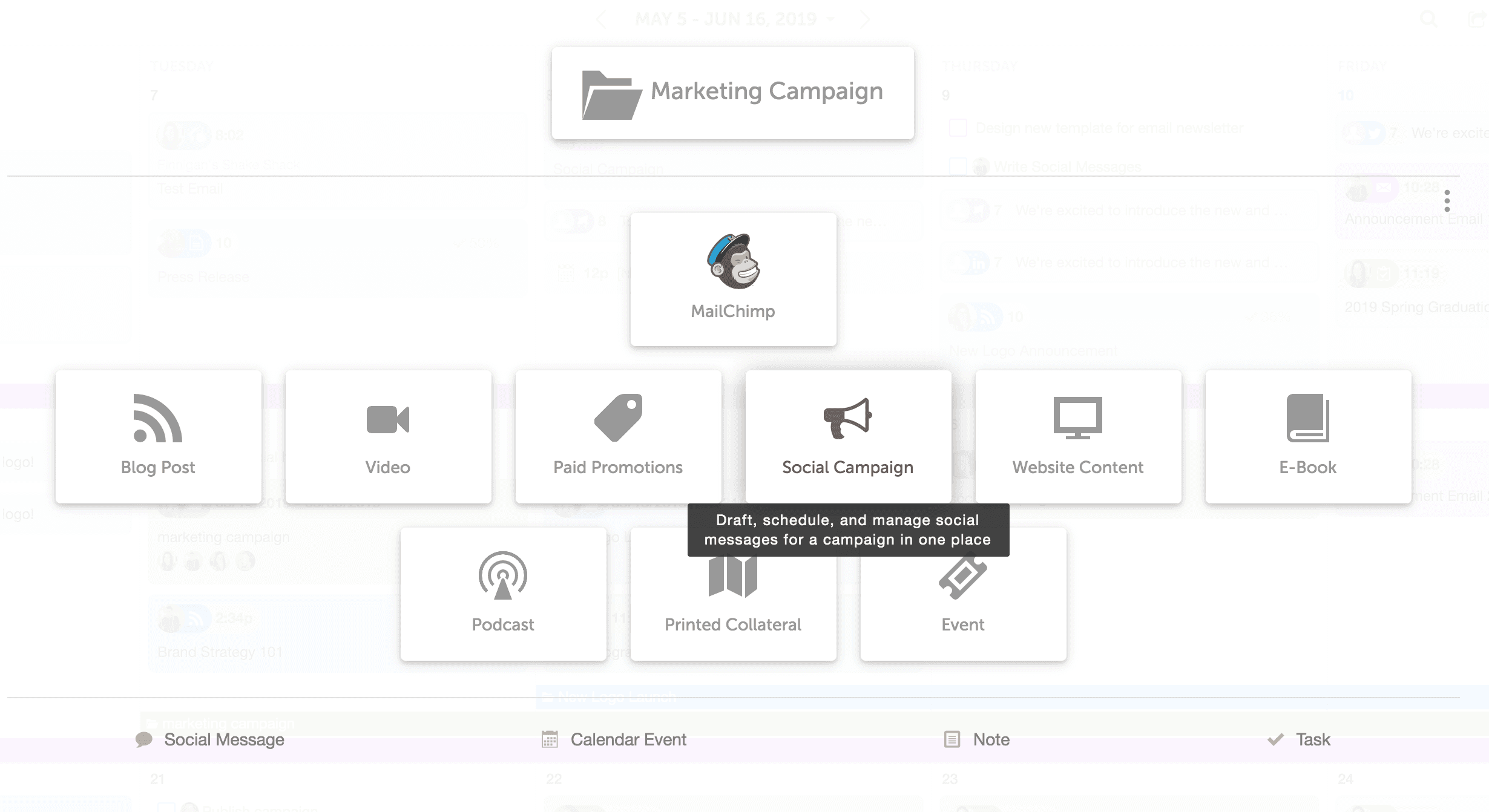 Click the box in the upper right-hand corner and click +New Template: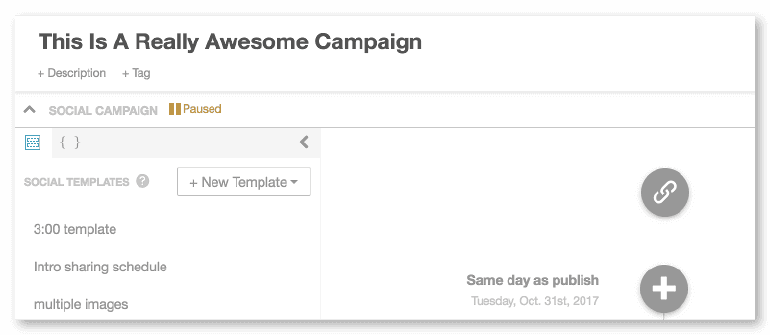 Add in the number of social messages that you want to be included in your posting schedule:
Save your template and apply it to your campaign:
Once you have your schedule established you need to optimize the time they publish to reach the maximum number of eyeballs. Each social media channel has different suggestions for the optimum times to post. For information on the best times to post on each network, check out the research in this post.
Using Best Time Scheduling in CoSchedule
If you're a CoSchedule customer, you can also automate your posting schedule with Best Time Scheduling. Best Time Scheduling automatically publishes your posts at the best time for your audience and using the feature is as easy as clicking a button.
Go to your CoSchedule calendar and craft a social media post by clicking + > Social Message: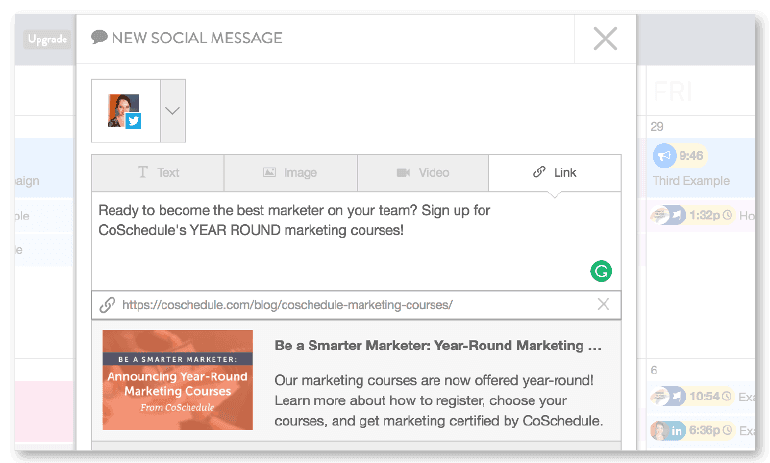 Scroll down to the bottom of the post and in the drop-down menu select Best Time: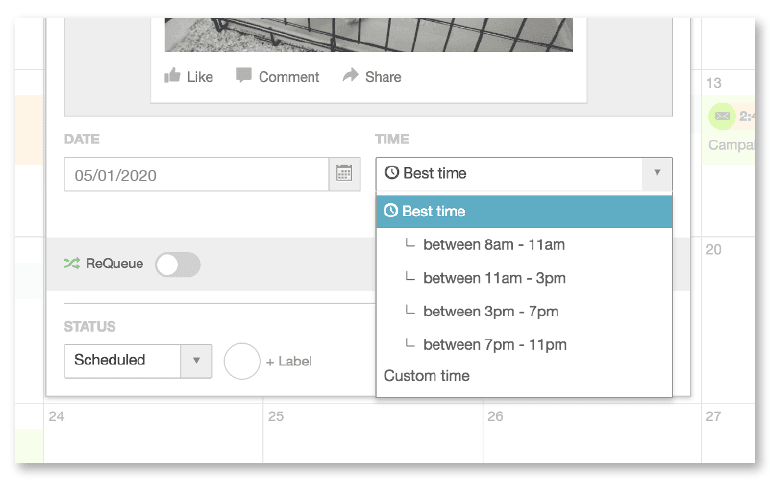 Let's say you schedule a post that does really well with your audience. Wouldn't you want to use it again? That's where ReQueue comes in.
ReQueue is the most intelligent evergreen content tool on the market, and all it takes is a few clicks to republish your best content over and over again.
To start, select ReQueue on the left-hand side menu: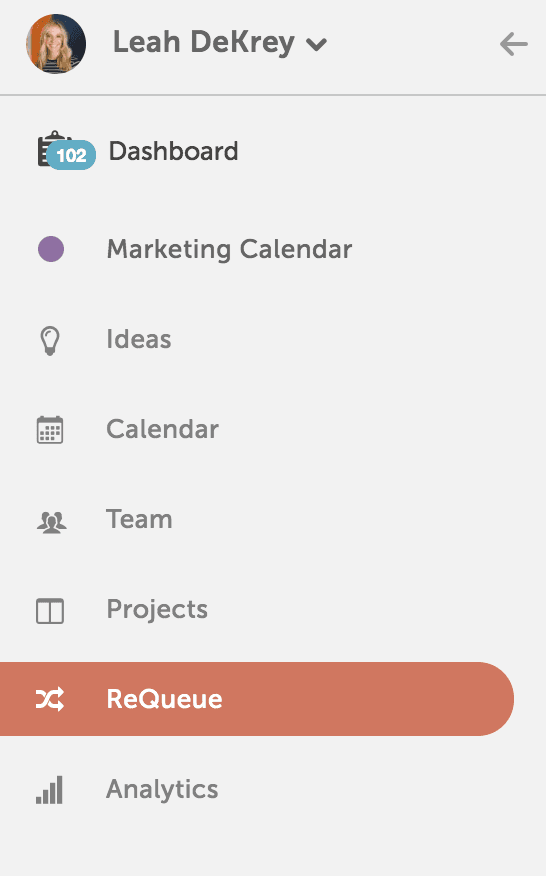 Create a ReQueue group by selecting +New Group.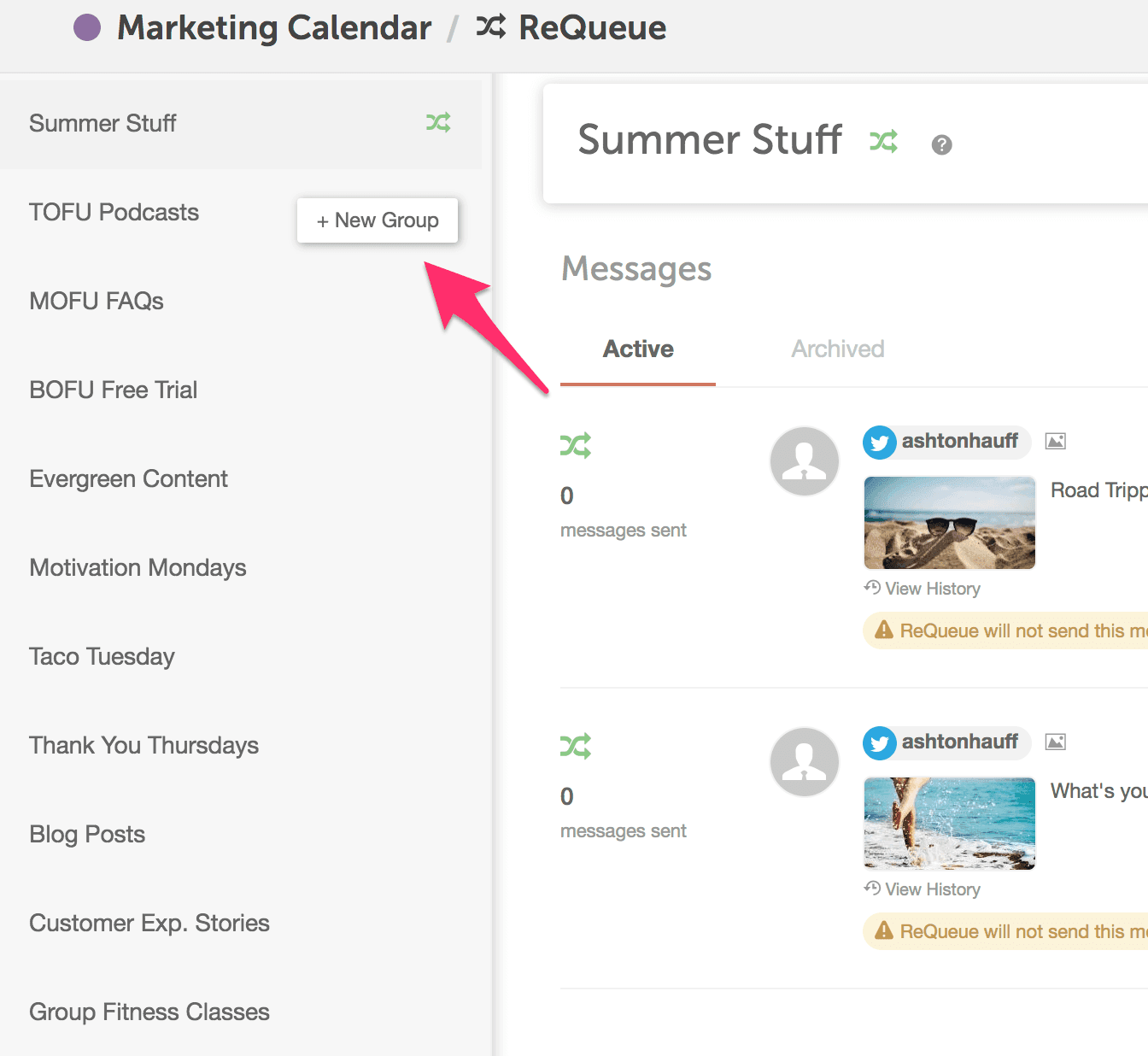 Next, you'll choose if you want an intelligent group or a placeholder group. Intelligent groups automatically fill gaps in your social schedule based on the best times to be posting on social media. Placeholder groups are made with all those #motivationmonday and #tbt posts in mind. You can set your social messages on to send on specific days and times to make your job just a little easier.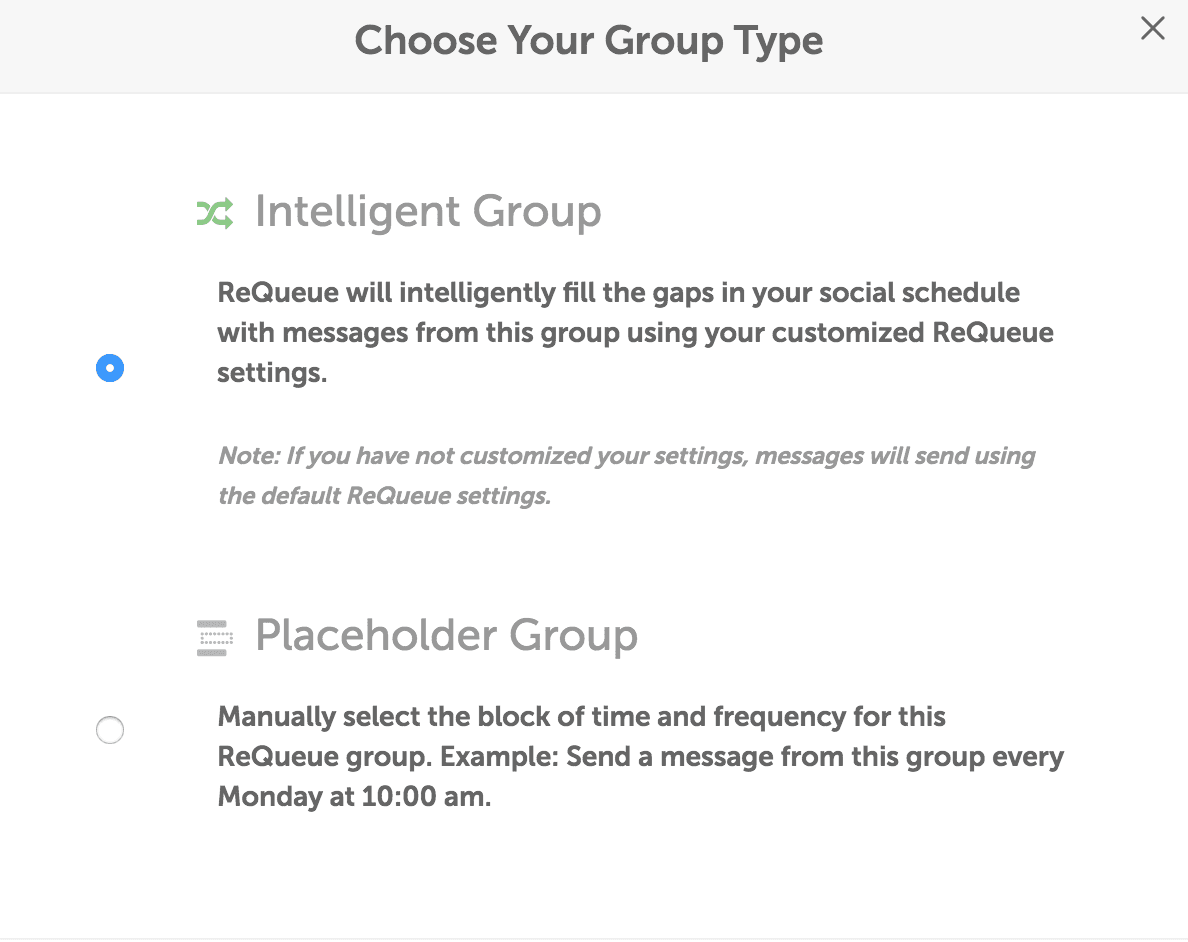 To add a message to your ReQueue group, scroll down the bottom of the post, toggle the ReQueue switch to on and choose the group you want to add your message to: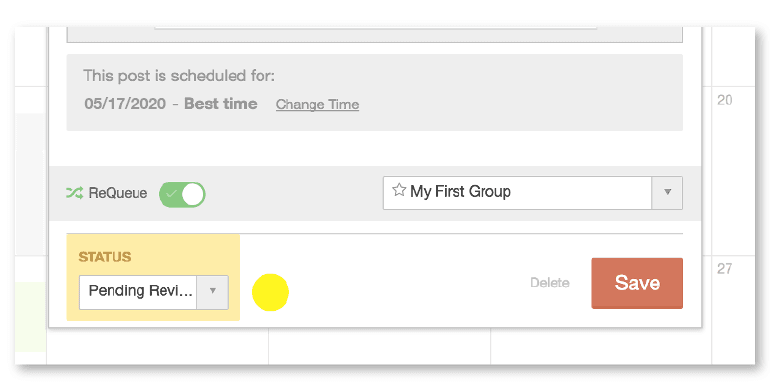 Organize All Your Marketing in One Place (Including Social Media)
Finally, bring your social media into the marketing team fold so everyone knows what's being posted and when.
CoSchedule is the only way to organize all your marketing projects in one place.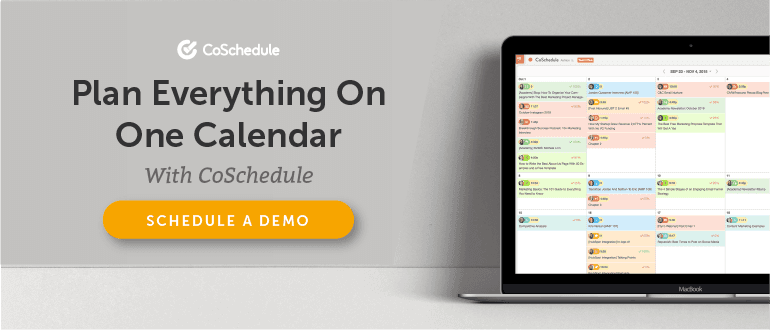 This post was most recently updated on Dec. 18, 2019.
December 18, 2019